The AmazonBasics Automatic Travel Umbrella, with Wind Vent, Black is a fantastic umbrella, not just at the affordable $15.99 price point.
For some background, I live in New York City, where cheap umbrellas are plentiful. For years, I would buy $7 umbrellas from the local bodega and just replace them if they broke or I lost them. I must have gone through 4-5 umbrellas a year and recently after the last one broke I decided to look on Amazon for an alternative.
If I was going to spend more money on an umbrella, I put together some simple criteria:
It had the be affordable (under $20) so that I wouldn't feel horrible if I lost it.
It had to be small enough to fit in my backpack
It had it have an open/close function (a lifesaver when going into buildings/subway stations with your hands full)
Ideally, it would have a dual-tier wind vent so that the umbrella wouldn't flip inside out during strong winds
I searched on Amazon and found the AmazonBasics Automatic Travel Umbrella, with Wind Vent, Black. Amazon doesn't have a track record of making umbrellas, but I've been happy with my AmazonBasics purchases in the past, so decided to give it a try. The umbrella exceeded all my expectations.
Form Factor
This is a nice compact umbrella, measuring in at 11 inches long and includes a tight storage sleeve. I've never used a umbrella storage sleeve before, but this one keeps everything looking nice and tidy. I imagine I'll lose it some point but that's not a dealbreaker. It's the perfect size to slip into a small tote bag, a backpack, or briefcase.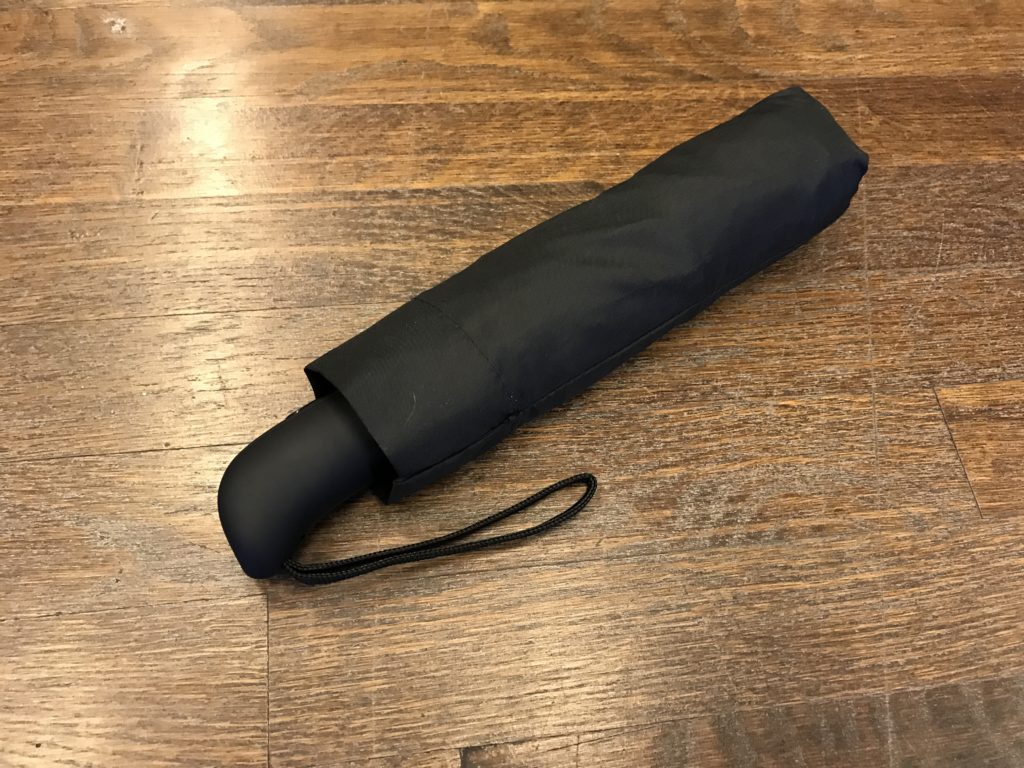 The umbrella looks great in black, with all the metal hardware painted in black. The soft rubber handle feels great in hand and button is simple and black as well. There is a small nylon strap that makes it easy to carry the closed umbrella when walking around. It's hard to fault the appearance of the umbrella and everything appears to be made to a very high quality.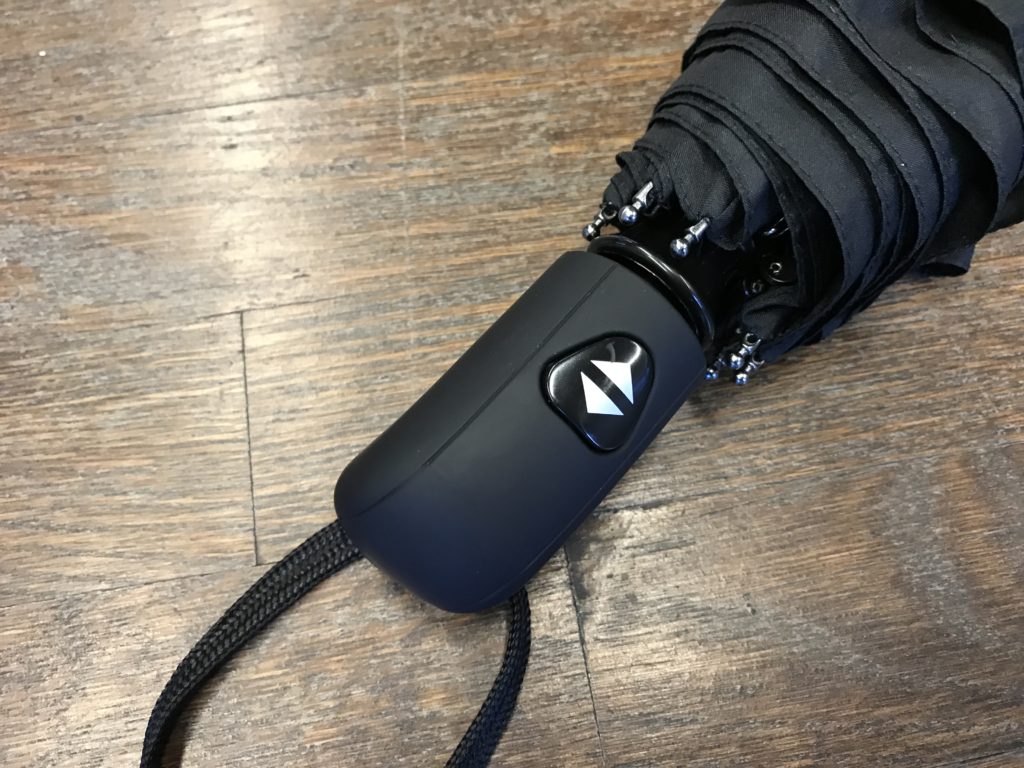 The only visible branding anywhere on the umbrella is a subtle logo on the velcro strap that holds the umbrella together.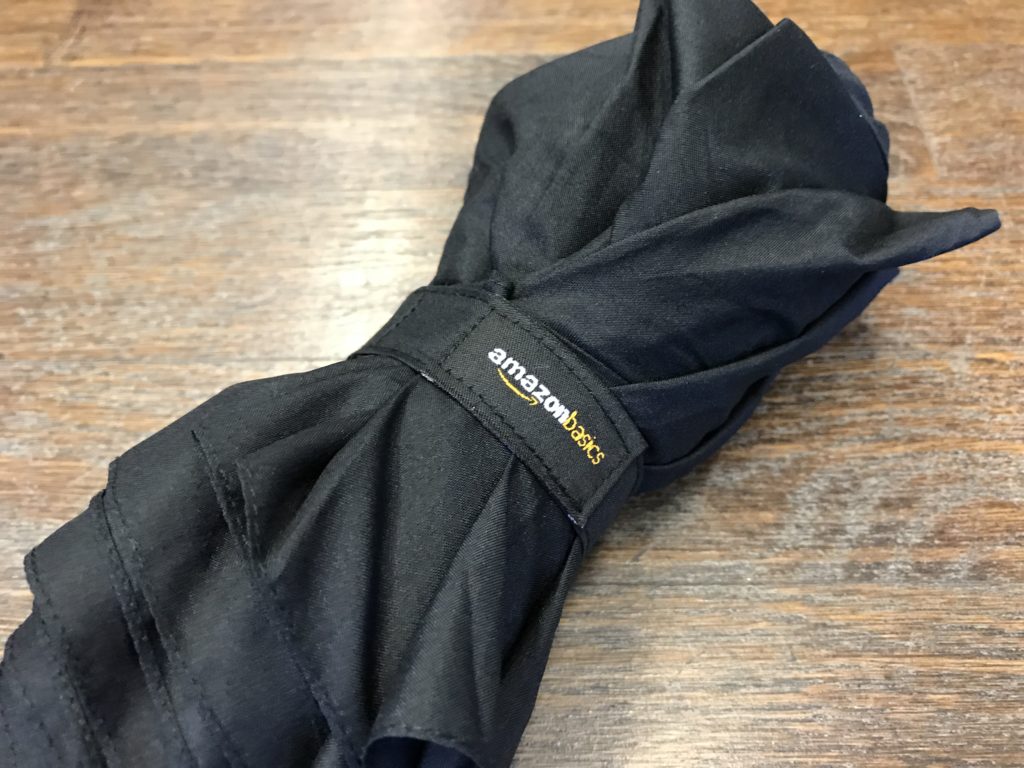 The wind vent is seamlessly integrated into the design of the umbrella, and doesn't add much additional fabric and cause unnecessary bunching when closed. I've used umbrellas with wind vents in the past and they've always ended up being very big and heavy. There are 8 steel ribs that hold the umbrella together, which seems like plenty for this size umbrella.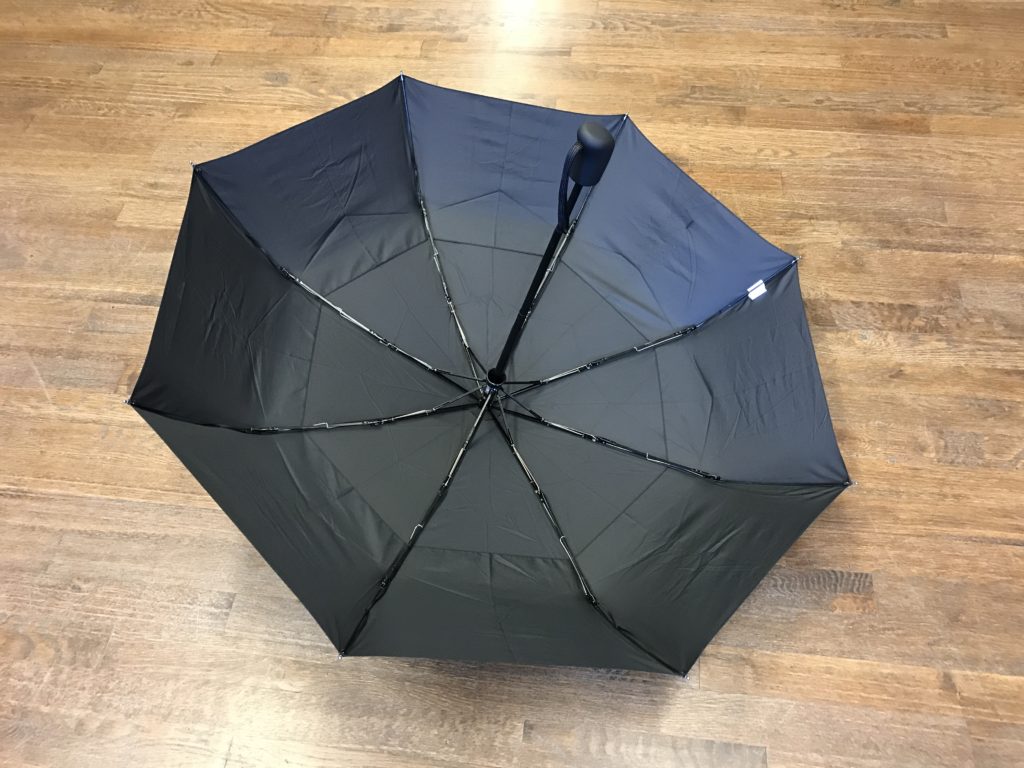 Functionality
I've used the umbrella through several rain storms and it has held up perfectly without feeling strained. The size is perfect for one person walking along city streets. The fabric repels water quite well and the whole umbrella dries quickly. I assume the water repelling qualities will fade over time, but it has held up well so far.
Final Thoughts
The AmazonBasics Automatic Travel Umbrella, with Wind Vent, Black is a solid choice for anyone looking for an affordable daily umbrella. The only downside is that it appears to go in and out of stock pretty often at Amazon, so it's worth stocking up on several if you think you'll need more in the future.