Well, I finally received my BauBax Jacket. I purchased two BauBax Sweatshirts in July 2015 for $229 total and received them about three weeks ago. I waited an extra six months beyond the advertised estimated delivery date which is likely better than many other backers who have yet to receive their jacket or only just now received it. The delays started generating news stories in late December and backers have grown increasingly frustrated, likely caused by hearing news about two other highly backed projects that ran into problems, the Zano Drone and the Coolest Cooler.
I wore my BauBax jacket for three weeks straight to get a good idea of how it would hold up to the intensity of travel and also to test the usefulness of the fifteen much touted features. During the test period, the temperature ranged from 45-80 degrees F. On the 80 degree day, the sweatshirt was very uncomfortable (great for outdoor wear in 45-65 degree weather). So how did the rest of my experience go? Read on to find out!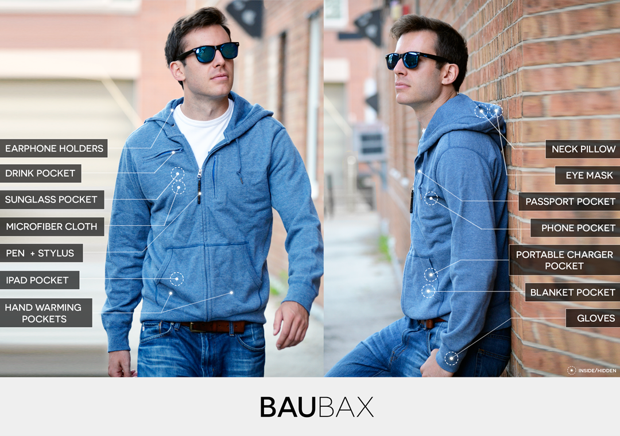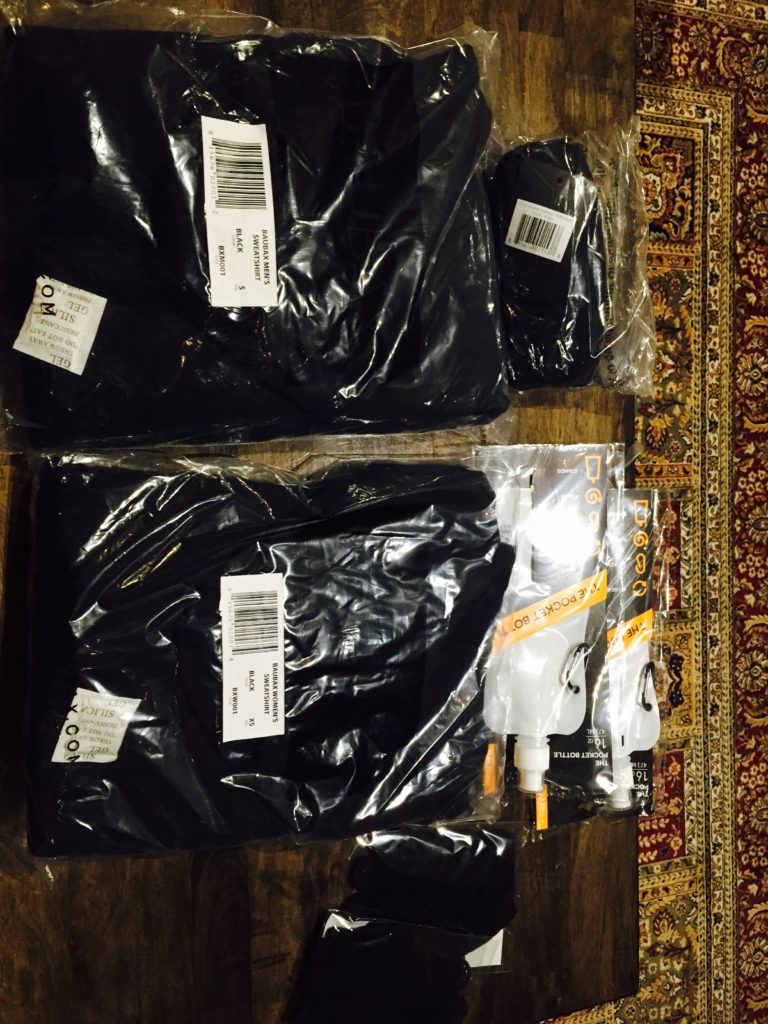 The Bonus Stuff
Let me cover the bonus stuff that came with the shipment first. I received two "Pocket bottles". These small plastic collapsible drinking bottles aren't high quality– in fact one of them leaked all over my bag. So word of caution on those. I also paid an extra $25 to get a pocket blanket. The blanket is pretty small, something other backers have remarked on. Each sweatshirt came with a collapsible pen that clips to the zipper (some pen refills are included in one of the pockets as well). The package also contains some 3/4 length gloves to supplement the built-in sleeve gloves. The gloves were pretty low quality– they fit and would do in a pinch but if you lost them in an airport you probably wouldn't mind it too much.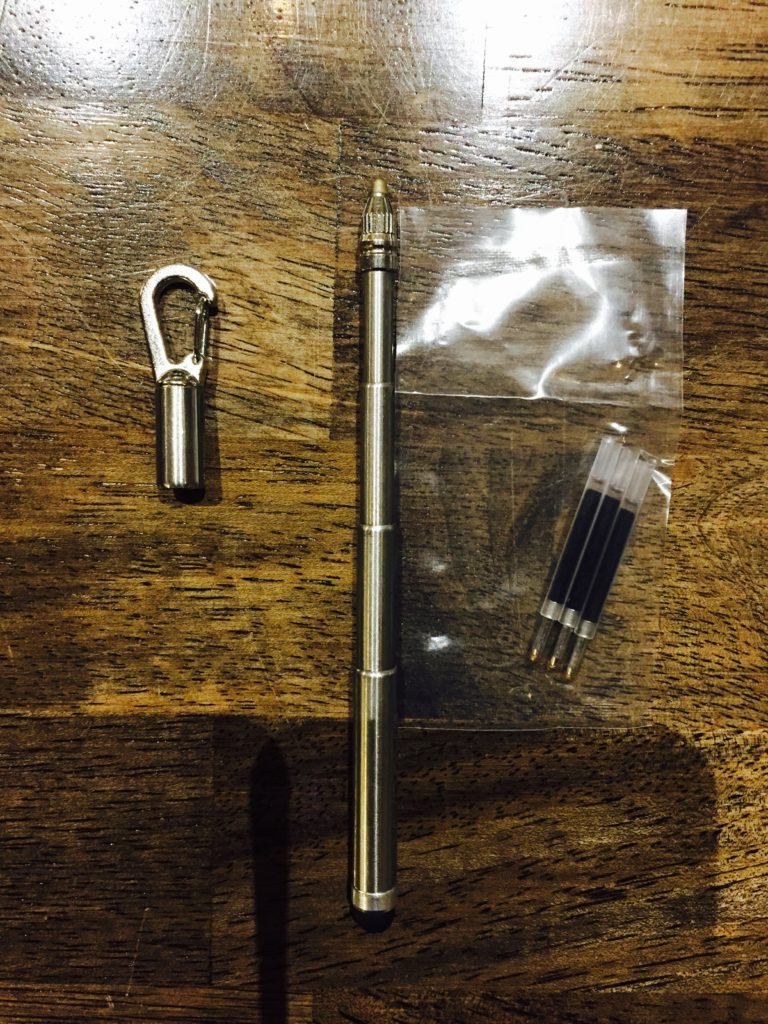 I was pleasantly surprised by the pen, although I couldn't see myself using it for much more than filling out a customs card. What I'm most afraid of is leaving it on the sweatshirt before washing it. During the three weeks of wear, I had this thing stashed in a drawer. Leaving it clipped onto the front zipper just felt unseemly.
The Sweatshirt
I received the sweatshirt in black and sized small (I'm 5'2" / 125lbs on a good day).
Fit
It actually fits me pretty well, although for many other backers, the fit was apparently a bit snug.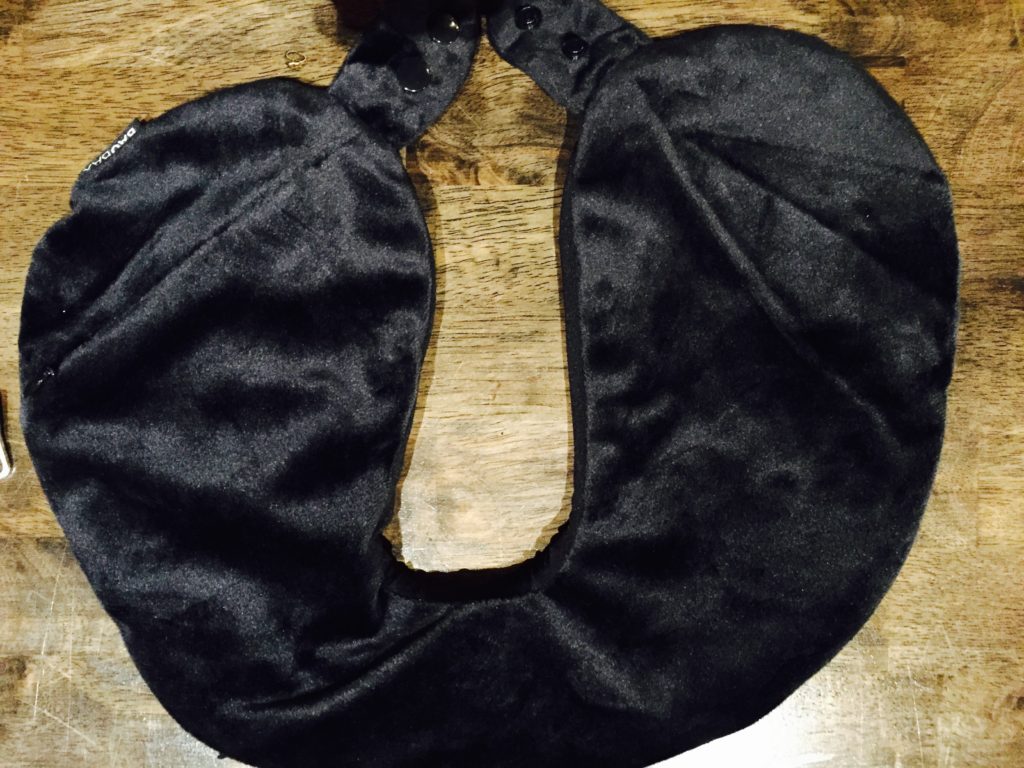 Quality of Construction and Look
I've been pleasantly surprised at the quality, perhaps because I pretty much read only horror stories from other backers. The different components are built of different materials. For example, the inside of the hood is a stretchy soft fabric while the outside and the "eye mask" is built out of a thicker fabric. The inside of the sleeves are made from an almost fleece-like material. I haven't washed it yet so don't know if it will hold up over time. It may not wash it too much in order to extend the useful life of the sweatshirt. The zippers are standard. One complaint is that the sweatshirt picks up animal hair (cat or dog) pretty easily. So watch out for that. In terms of looks, I'm not much of a judge, but it seems fine to me. I wouldn't wear it to a fine dining establishment but it seems ok for traveling and everyday wear.
Features
So one of the biggest selling points of the BauBax sweatshirt is that it has all of these neat features built-in so that it has maximum utility while you're on the road. Do these features live up to the hype?
Earphone holders: they are loops to route your earphones through. I've yet to use them.
Drink pocket: not sure I'd actually keep a drink in there but it seems useful for storing a small wallet or a bunch of credit cards.
Sunglass pocket: this is a useful interior pocket that I've kept my iPhone inside.
Microfiber cloth: the sunglass pocket has a microfiber cloth built into it. Seems like it would be useful, although I'm not sure it will hold up in the wash (it doesn't seem to be removable).
Pen…
and Stylus: as previously noted, this was stored in a drawer during the testing period.
iPad pocket: this is a huge interior pocket. I think you can store papers on there if you want, or if you're really pushing it, an iPad. I can't see how that would be comfortable although for plane boarding purposes this might be a really useful pocket to have.
Handwarming pockets: these are the pockets on the outside of the hoodie. Somewhat shallow and lined with microfleece. Not bad.
Neck pillow: mine inflated quickly and deflated quickly as promised. However, it is really thick. During the testing period I left it out. I can't see myself wearing the neck pillow around (it is inserted into the hood and pinned down with buttons) comfortably.
Eye mask: a piece of extra fabric built into the top of the hood. I can see how this is useful, although for every day wear it doesn't come in handy and creates a weird bulge at the top of your hood.
Passport pocket: another nice exterior pocket. Comes in handy. Good for storing keys.
Phone pocket: nice interior pocket. I did keep my phone in here at times.
Portable charger pocket: this is a weird open top interior pocket. Didn't use it.
Blanket pocket: also unused during testing, interior pocket.
Built-in gloves: these have thumbholes and will be handy when it is colder out. They are kind of bothersome for sliding your hands through when you put on and take off the sweatshirt.
Final Verdict
I wore it for 21 days straight so at this point it has cost me about $5.45 / wear. I think if I wear it another 80 or so times I'll be happy with the purchase. I'm not sure I can unreservedly recommend it based on the price and the company has burned a lot of goodwill with customers. But overall I think it is fine. BauBax, like Coolest Cooler and Zano Drone before it, is another cautionary tale for crowdbackers: don't treat crowdbacking and fundraising sites like Indiegogo and Kickstarter like Amazon. You aren't shopping, you are backing necessarily risky ventures. That being said, for entrepreneurs, they would do well to remember not to overpromise. Better to underpromise and overdeliver than vice versa.
Do you have a BauBax jacket? Do you like it? Hate it? Meh? Leave us a note below!