Audible is the audiobook service offered by Amazon. I've been using Audible almost daily for the past couple of years, and I can sincerely say that it's been a life changer.
A little bit about the service and what you're actually buying with a membership:
It's $14.95/month for the Gold Membership and each month, you get 1 credit that you can use to buy a book. You'll notice that some books are quite expensive if you were to buy them without a membership, climbing to the $50+ territory. (use this link to get two free audiobooks when you sign up)
I make frequent use of their refund feature (go to Audio Purchase History and you'll be able to return books). When I finish a book before I get the next month's credit, I opt for a refund of the book and use the credit to get the next book. I've done this more than ten times now and it hasn't posed any problems for me.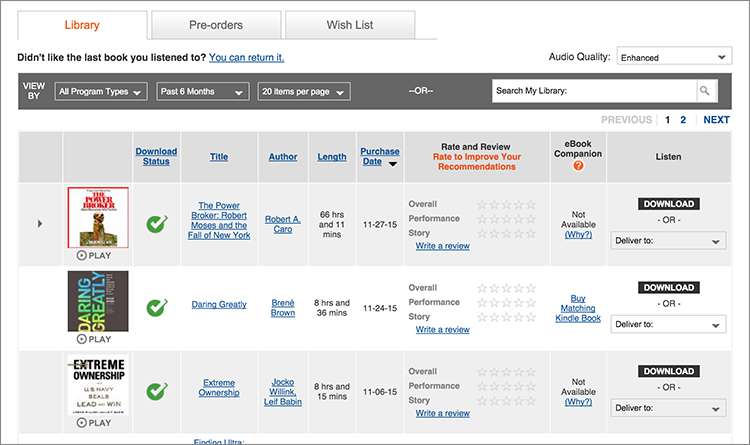 I've always felt that reading books is one of the best investments you can make in yourself. I keep a running list of books that I want to read, constantly scour for new books on blogs and book review sites, and ask people if they've read anything interesting or helpful recently.
Audible has made it possible for me to consume books at a much faster pace. It's one of my most-used iPhone apps and a must-have on dog walks, commutes, bike rides, and jogs around the park. I've been averaging around 30 hours of listening time per month. One of my heavier months totaled nearly 45 hours of listening, made possible by plane travel and long car trips.
There are drawbacks with audiobooks. I'm rarely in a place to pause and take notes when I'm listening. I try my best to make a mental note and jot something down on Evernote later, but this doesn't always happen. I also feel like my recall of particular chapters and passages suffer when I don't have a visual picture of the words. Another drawback is the unpredictability of the narrator. There are books where the narrator is amazing and makes the listening that much more pleasurable. And then there are books where the narrator is so annoying that it's hard to finish the book. When I pick a book, I check out the reviews to see what others have said about the narrator. Lastly, not all books you find on Amazon are available on audio
In terms of the books I like to listen to on Audible, I find that they are almost exclusively nonfiction.I've kept my reading to mostly business texts, historical biographies, and other nonfiction topics. For some reason, I don't like the idea of listening to fiction. I want to see the prose written out and feel like a large part of enjoying good fiction is to look closely at the sentences. I also find that I'd rather read fictional dialogue than listen to a narrator do different voices. For example, hearing a male narrator do a half dozen different falsetto female voices can be distracting to the imagination.
Recommended Listening

Here are my top five books from 2015 that I listened to on Audible. I still think about these books every few days, and they've shaped the way I live my life and the way I view the world. I've linked them to their Amazon pages so you can check them out in print, Kindle, or Audible formats.
Between the World and Me by Ta-Nehisi Coates
This was such a powerful and riveting book. I listened to the whole thing in just a few days. I found myself tearing up in some parts. Coates, in an impassioned letter to his son, talks about growing up as a black person in America and all the weight and dangers this carries in a country built on the idea of "race." I really liked that Coates himself narrated the audiobook. There's a lot of buzz surrounding this book and deservedly so. I hope it becomes required reading one day for all young people in America.
Finding Ultra: Rejecting Middle Age, Becoming One of the World's Fittest Men, and Discovering Myself by Rich Roll
An overweight 40-year-old man who struggles to climb the stairs in his own house decides it's time to change his lifestyle. But fueled by an obsessive personality that once had him fall into an alcohol addiction, Roll channels his efforts into becoming a top world-ranked ultra triathlete in less than a year. Part memoir and part instruction manual for healthier living, Roll talks about his childhood, his battle with alcoholism, and also shares in-depth knowledge about his adoption of a whole food plant-based diet as well as his approach to training. This was one of my favorite books to listen to while running or going for bike rides. I found Roll's story very inspiring, and I adopted some of his tips like getting myself a Vitamix to make nutrient-rich green smoothies every day. I'm also hoping that I can work up my endurance in the next 4-5 months to try a half-marathon or a triathlon.
The Rise of Theodore Roosevelt by Edmund Morris
I came away with a profound respect for Teddy Roosevelt. In a relatively short period of time, Roosevelt achieved so much and made the most of his opportunities, from his studies of nature as a child, his activities at Harvard (including boxing), his reform efforts as state assemblyman and appointee to the Civil Service , his term as police commissioner of New York City, his time as governor of New York State, and his presidency. During these years, he authored numerous books, went on various hunting expeditions, and mastered the art of politics.
The Education of a Coach Paperback by David Halberstam
I really enjoyed reading Halberstam's biography of Michael Jordan, Playing for Keeps, so I thought I'd pick up his bio of New England Patriots football coach Bill Belichick. Belichick's been portrayed in the media as a genius but also a ruthless leader who'll do whatever it takes to win, including stretching the rules and possibly cheating (Spygate). Halberstram goes beyond the prevalent media caricatures of Belichick and chronicles his rise from unpaid assistant to one of the most revered football minds ever. As a New York Giants fan, I savored the two Super Bowls we won against the Patriots, but I've always respected the way New England has been able to consistently put together winning teams. By the end of this book, my respect and admiration for Bellichick grew deeper as I learned more about the dedication, discipline, and patience it took for him to build a team-oriented culture that's sustained an unrivaled run of success.
The Snowball: Warren Buffett and the Business of Life by Alice Schroeder
One of my favorite reading/listening experiences of the year was the pairing of this Warren Buffett biography with the Berkshire Hathaway Letters to Shareholders, 1965-2014. The shareholder letters, all written by Buffett, are an amazing read on their own. He packs each one with insights about his investing philosophy, his views on business, and the way he values relationships with good people. Knowing that Berkshire Hathaway would end up into a global multi-billion-dollar holding company, it was really exciting to go through the letters chronologically, reading about his early missteps in the textile industry and the compounding growth of his investments, especially with the float provided by his insurance companies. The biography by Alice Shroeder provided color commentary to these letters. She goes in-depth to describe Buffett's upbringing, his relationship with family members, the numerous deals he made or didn't make throughout his career, as well as his personal quirks and values. I had a great time comparing the letters of a particular period with what I knew from having listened to Buffett's bio and made note of the things he shared or didn't share in his letters.
Other notable titles I listened to this year: