From Amateur Cook to Well-Fed Amateur Cook
***Update 3***
Hi there! Welcome to our site and Blue Apron review which you probably saw on Facebook. We're all out of free week trials and since there are 30+ people on my list already and I'm unlikely to get more than a few free trials to give out a month, I'm now closing the list. However, Blue Apron customer service was nice enough to send over this link for $30 off your first order (which is 50% off for the two person kit). Enjoy!
***Update 2***
Ok, so this Blue Apron review may have gotten a bit more popular than we intended. We went from about double digit organic views to over a thousand views (5/16 update: 17,000+ and counting!) in the last three days. So as a result, I'm all out of free trials to give away.
***Update 1***
I've received a lot of questions from readers about tools that might make the Blue Apron experience even better by boosting cooking efficiency. Here are my top ten picks. These picks are in addition to the Zester which is very useful for making the lemon zest and Chef'n Veggie chopper which is very useful for celery and carrots that I discuss in the body of the review below:
Read on for my three year review of Blue Apron. Please enjoy! And if you want to try, follow the link at the top of this post!
How We Got Started on Blue Apron
Meredith (my spouse) and I returned from Iraq in late 2011 which marked the end of a combined four tours for the two of us. We were hiking in Acadia National Park in Maine when we decided that we were so sick of KBR cooking we would rededicate ourselves to eating fresh, home-cooked meals. So began our journey to becoming better at cooking.
Meredith has always been better at the mechanics of cooking than me, a fact for which my stomach is eternally grateful. We have a few recipe books (The Joy of Cooking being one) that we consistently turn to for ideas and meals so branching out really required effort. Somewhere along the way we read a newspaper story about a few dinner kit companies, services that will send you a box full of raw materials so that you can cook during the week. We decided to give Blue Apron a shot. That was two years ago! Here's the story of how our experiment with dinner kits went– and what we learned about cooking, food, and ourselves in the process.
Why Dinner Kits?
 Like I said in the inaugural post of this blog, I'm very interested in saving time. I'm also not interested in wasting money so there's a optimal balance point between the two, a sweet spot that I'm trying to reach with every considered purchase. I also need food to be consistent and healthy. There are a ton of Blue Apron reviews online (see here, here, here, here and here) but I think this post is one of the only ones from someone who is a long-time user of the service. Put another way, I've had a much larger sample size than most of the early reviewers (here's one from a reviewer that spent a year on BA). I've also seen the service evolve in good ways over time.
The Importance of Saving Money
While we can probably debate this point endlessly, I think the proper comparison price point for dinner kits is restaurant meals. Cooked properly, many of these meals rival most mid-tier restaurants in terms of quality. And because the recipes spell so much out for you, really it is more like a paint-by-numbers exercise than really cooking (at least for the first few times you do it).
The total cost of Blue Apron's most basic boxes is $60, which includes three two-person meals. The per meal cost is $10, which is the cost of probably the least expensive entree at most restaurants. For that price, you get delivery, menus, and most importantly inventive meal planning. I think that's a really good deal. Also, how many times have you gone out and purchased vegetables, used 1/4 of it for your recipe only to have the rest go to waste? BA's shipments only have what you need for each recipe, so I've found the boxes to cut down on food waste as well.
How A Kit Service Helps You Save Time
I can't emphasize this point enough. It is so easy to get into a pattern of eating that will eventually make you bored of food. That's not good. The chefs at Blue Apron are always thinking up new recipes for you and they test them out before they reach your door.I'm excited about IBM's Watson's potential but until IBM starts delivering food to my door, I'll be sticking with BA. Have you ever randomly pulled a recipe from online, cooked it and found it taste terrible? That has rarely happened with BA, at least in our experience.
Most of the time savings here comes from not having to go to the grocery store, not having to come up with your own recipes, and not having to hunt down weird ingredients for stuff you find inside online recipes and recipe apps.
Eating Healthy
When I served in Korea from 2006-2007, my meal planning was non-existent. I literally subsisted on 80/20 frozen burger patties (my roommate and I kept a Weber grill out in front of our condemned barracks) and Lean Cuisine frozen dinners. I was a geographic bachelor (Meredith was still finishing up at college) and I was usually too tired after work to cook. I think it was hard to maintain peak physical fitness on that kind of diet, which is another major consideration of moving to healthy dinner kits. I still continue to work out every day, a habit leftover from my time in military service, so I very much value a balanced and healthy diet.
Self-satisfaction and learning a new skill
I started out as an amateur cook and still consider myself that even after two years on BA. But I have definitely noticed that I know a lot more (or think I do at least) about how my food is prepared at restaurants, have a greater appreciation for the craft of cooking, and just generally know more about food. You can easily be completely disconnected from the reality of cooking but subsisting on Subway or Chipotle. We still definitely eat at restaurants, but I think we're much more selective about where and what we eat now that we know what we can whip up in our own kitchen in terms of quality.
I also felt as if cooking got easier and easier, to the point now where I'm anticipating what the instructions will want me to do next. The learning curve wasn't that steep– after a few weeks it became very natural to read the five to six panel recipes.
There's also a nice sense of satisfaction that comes along with cooking your own food. In the industries where people are most busy and focused on knowledge creation, feedback loops tend to be long and you often go months without really knowing how well you're performing. Food gives you a sense of progression and accomplishment that also nourishes. This was an unexpected positive externality from cooking!
So how did it go?!
With all of these benefits in mind, I now present some of the meals we cooked the past two years. Not all dishes are present because, well, sometimes we were so hungry we wound up chowing down before we remembered to take a picture!
A not-so-random walk through the entire cooking process / experience
Delivery: we've lived in DC and Philly over the last six years or so and in that time we've had the box delivered mostly by Lasership and sometimes by UPS (in the early days). We've had the box stolen off of our front porch exactly twice during that time– once in DC and once in Philly. I'm not sure what the thieves did when they opened the box and found raw vegetables and meat inside the box, but since we haven't had any repeat thefts, I'm going to assume these boxes don't interest them much. But, be aware, package theft is an issue, especially if you're not going to be home when they deliver the box.
The other thing I'll say about delivery is that I often wish that deliveries could be canceled a little bit later than they allow. Right now if you don't cancel about a week and a half before the delivery, you can't cancel. Things come up (e.g. trips out of town, emergencies, forgetfulness, etc.) and it feels like a huge waste to have the box arrive and sit in the fridge for an entire week. Perhaps they could even just build in an option to have the box donated to someone if you forget and truly can't use it. This isn't a frequent issue, but sometimes life happens.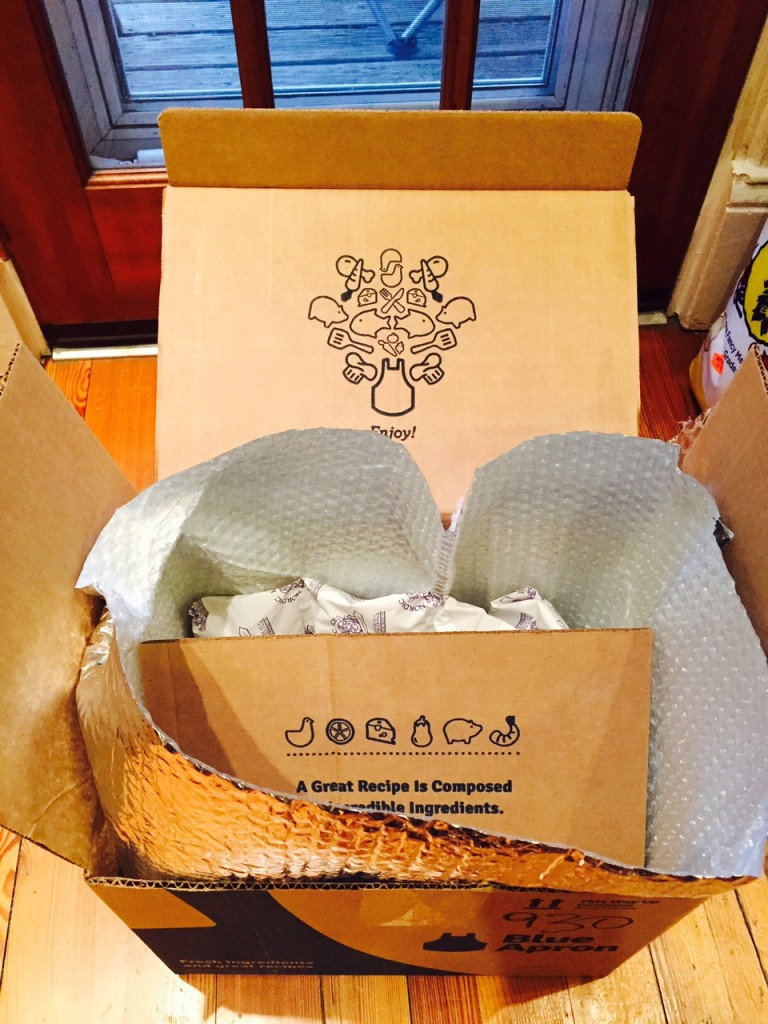 Refrigeration and packaging
The box is lined with a foil bubble wrap combination liner and Viking Ice Packs. Even on the hottest sunny days with the box sitting outside for 9+ hrs, I've never opened a box where all of the ice melted through. The current iteration of packaging is pretty great, especially compared to the old packaging which used something akin to roof insulation. The size of the box has slowly been reduced too, now there's virtually no wiggle room for the veggies and meat so everything arrives completely intact.
All of the veggies and meats that are needed for the meal arrive in the box. All you need to have on hand is olive oil, salt and pepper. All of the veggies now come in their own packaging for freshness and everything is labeled well. When it comes time to pull your stuff out of the fridge, it usually takes only a few minutes to get all of the raw materials lined up. The meat isn't quite vacuum sealed but it is close. You want to eat the fish first usually. I've had meat last a week, although I don't recommend waiting that long to cook the meals since the veggies probably don't look that good a week later.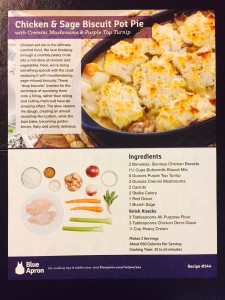 Recipe layout and readability
Many of BA's recipes are available for free online. Here's one area where I think it would be interesting for there to be more technology involved. The recipes are usually pretty nicely laid out. There are between five and six panels. Within each panel there are, on average, 4-5 steps, although some panels are pretty densely packed. The first two panels are usually prep panels, wash and chop veggies, boil water / pre-heat your oven. The middle three panels involve cooking and the final panel is usually combining everything together and garnishment. The pictures aren't that helpful to me, I find myself relying on the text a lot. As such, I wonder if it would be possible to have an iPad app or iPhone app that both read the instructions to you (you could turn on voice recognition and have it say "next" so you didn't have to continue to scroll) or presented the instructions in a step-by-step manner in giant text. Sometimes it is hard to stop cooking to consult the menu if you don't remember the next step. This is a worse problem for the more complex meals.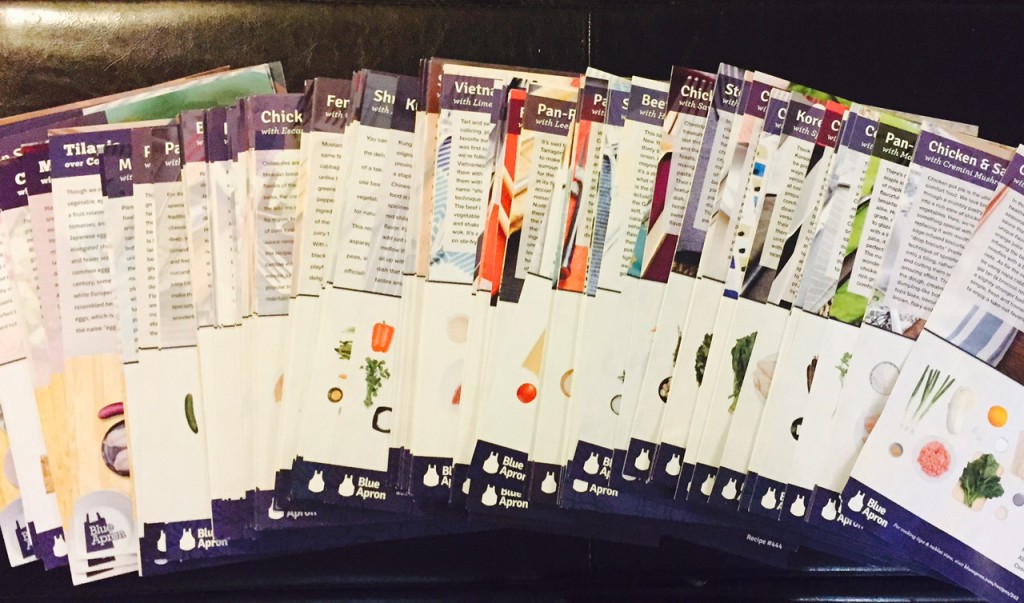 Getting down to cooking
Tools and techniques
Food prep is probably the most time intensive part of the cooking process, other than waiting for something in the oven or for water to boil. I recommend getting a few tools to shorten food preparation time. This chef'n veggie chopper has saved a ton of time, especially with small dicing onions and garlic cloves. This cheap OXO zester is also really good for zesting lemon and orange peels. A good knife is also key, although everyone has their preference on how the knife fits in their hands so I don't have much in the way of recommendations here. A consumer version Wusthof lasts a long time and won't set you back too much. Just remember to keep it sharp. A good cutting board does wonders as well. You want one made of wood or plastic, not glass, since glass can harm your knife. Frying pans (don't get a cheap one, having two on hand is good) and pots (usually two will suffice) are essential as well.
There's usually a ton of chopping involved with the meals. Improving knife skills (small and medium dicing, chopping herbs, etc) also reduces prep times. Before I got the zester I used to be very annoyed by having to zest but now it isn't so bad. You have to watch your heat settings for the meat as well since sometimes you'll cook seven to eight minutes on one side and you risk burning the meat if you put the heat too high.
Ingredients
Overall, I'm really pleased with the quality of ingredients that get sent. The veggies are usually fresh although occasionally we've gotten a bad potato or a bunch of scallions that are about to go bad. With avocados ripeness is harder to time, so occasionally you'll get an avocado that is not ripe enough to eat. The meats, fish in particular, are usually of really high quality. Many of the ingredients carry an organic-certified label although not everything is organic. One cool thing that BA does is it separates out the "knick knacks" into separate bags for each meal. These items such as oils, spices, sauces, butter, etc. are usually quite plentiful.
Usually there's an ingredient or two in each recipe that is quite… weird. Kohlrabi, fennel, and gold beets are some examples. The recipe inspirations also come from all over. You can have a ramen-based meal one day, a pub-food inspired pretzel burger another day, and a Mexican-inspired fish taco on a third day. So the variety is really something neat and a huge feature of BA meals. I do think that the meat portions are somewhat skimpy at times, the beef here in particular. It seems as if the portion sizing for the meals hews to USDA standards, which is very healthy, but sometimes I felt like eating a little bit more when the meal was over.
In general, the meals run between 500-800 calories per person. This is a super healthy meal / portion-size and I'm glad that they do this, although I can definitely see a larger person wanting more food.
Cook times
This is my primary complaint about BA. The recipe cook times say 25-35 minutes. I'm not sure where they get those numbers from but we've timed 20-25 meal preps and I want to say the stated time is usually an underestimate by 10-15 minutes. So percentage-wise we're talking 25-50% error. Sometimes you get this error rate even if there's two people doing the prep work and cooking. Otherwise, the cook times are pretty reasonable. I'd estimate it takes between 30-45 minutes to cook, from fridge to dinner table, for the average meal.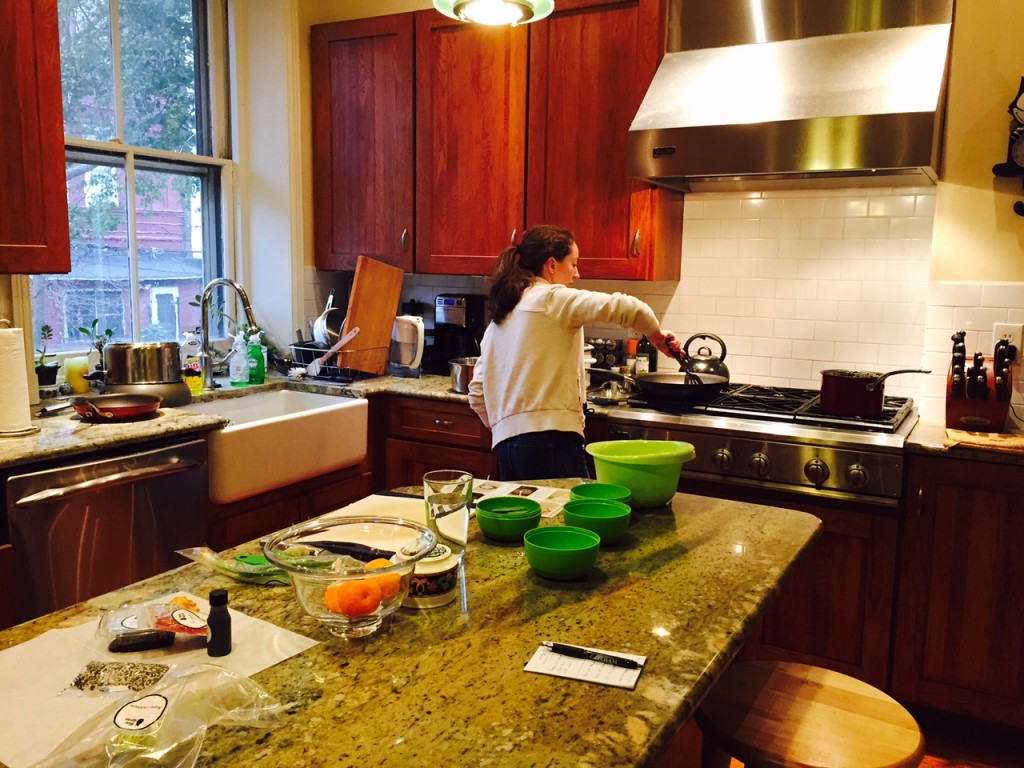 Taste!
My guess is 98% of the meals have had me say, "that's tasty". The recipes are basically replicable, so we've cooked for ourselves the meals we consider the best. I'd say about 50-60% of the meals are ones where I've said to myself, "I'd cook this again".
The meals are certainly comparable to restaurant meals at a mid-tier, 3.5-4.0 Yelp rating restaurant. Look, you're not going to replicate Le Bernadin in your kitchen, but this is pretty excellent for three times a week eating!
Customer service and I got a cool apron!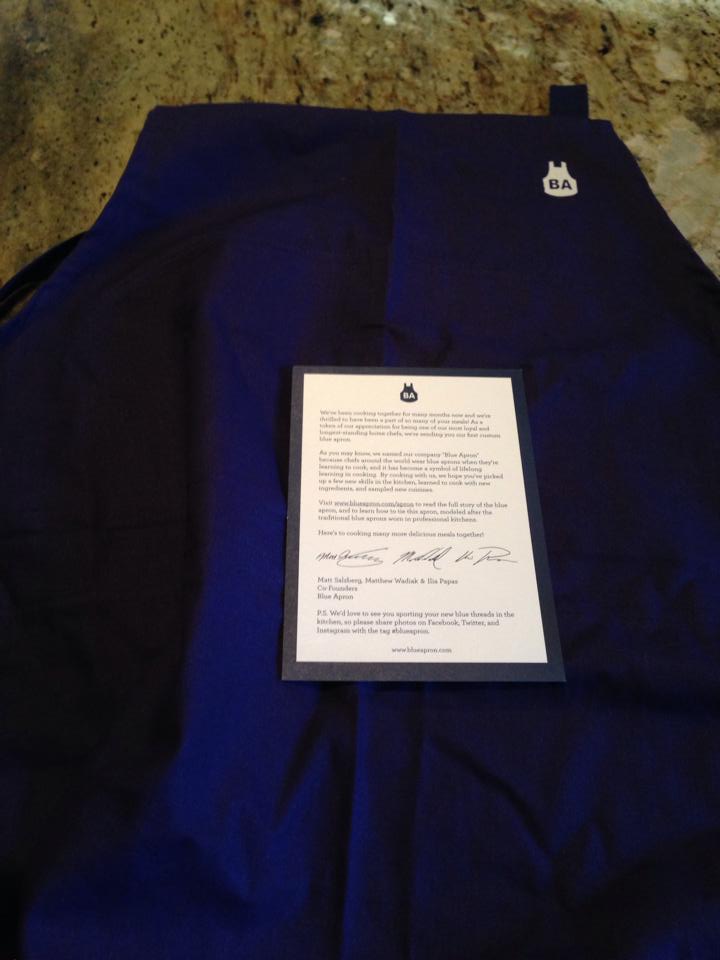 The Blue Apron team is generally pretty responsive. The two times my boxes got stolen I got refunds by the following week. Emails and messages sent to their customer service team were usually responded to within 24 hours, much of the time less. If you have a special request that is reasonable (we cooked Blue Apron for Thanksgiving two years ago, it was really nice!) they'll usually accommodate. For example, we asked for two boxes for Thanksgiving so that the entire extended family would be able to eat Blue Apron and the team happily obliged!
Clean up: how bad is it?
Cooking with Blue Apron can generate a lot of dishes. We usually find it takes 10 minutes or so to clean up the dishes and get the dishwasher loaded. Yes, it is a pain in the butt. No it can't be avoided. We have found that if two people are available to cook, cleaning up along the way makes cleaning up after dinner go more quickly.
How much did we cook last year?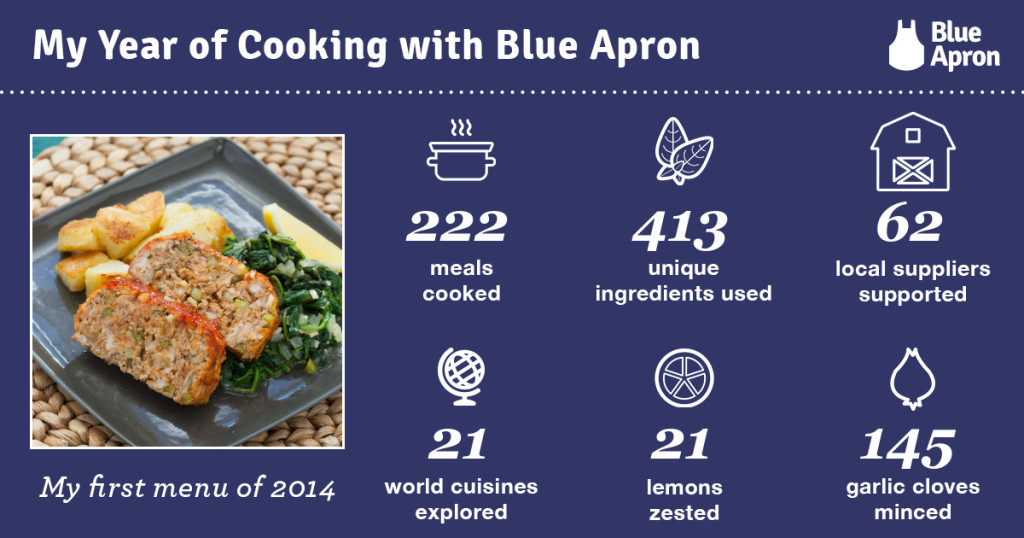 The Blue Apron folks made an infographic of our cooking which is pretty neat. I didn't realize we minced so many garlic cloves last year. Wow.
What do you cook when you don't have Blue Apron?
We usually cook a combination of crock pot meals (e.g. beef and chicken stews), things that can be cooked in the rice cooker, etc. I work near a bunch of food trucks so for lunch I usually will grab a $5 sub or some falafel.
The verdict
My sense is that we'll never go back to "unassisted" cooking again. It is just so convenient to have this service. Perhaps some competitor will come along and woo us away, but for now we're sticking with proven quality. You really have to be impressed that I haven't cooked a repeat meal with them in two years and I've only had two meals where I've said, this isn't very good. The rest of the meals have been pretty good to really really good.
Another Update: More Meal Pictures And Blue Apron Wine!
Interested in giving Blue Apron a try? Get a free week of food or at least a discount on your delivery below
For anyone who wants to try this service, here's a link that the Blue Apron marketing team shared with me which will give anyone who clicks a discounted first box. And for as long as I have invitations, if you email buyswithfriends-at-gmail.com and sign up for our newsletter, I'll send you an invite for a free week of Blue Apron. I currently have five and they'll be given out on a first-come-first-serve.
Thanks for reading my Blue Apron Review!
Do you use Blue Apron or another service like Plated or HelloFresh? How do you like it? Put your comments below! We'd love to hear from you.
FULL DISCLOSURE: I am not getting paid for this review– and I have no stake in Blue Apron's success other than as a customer who wants the service to continue. I did, however, go to high school with one of the co-founders Matt Salzberg. Here's a picture the two of us (yes, I had long-ish hair in my days of youthful idiocy) that you can easily find on the internet. The bottom line is that I really like Blue Apron's product, but there are obviously ways they can improve and I hope I gave you an honest appraisal of what I think are the costs/benefits of outsourcing your cooking to a dinner kit service. Besides, does a company with a reported valuation north of $500 million really need my help? 🙂