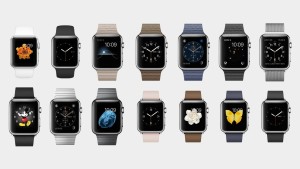 In the beginning
I received my Apple Watch Sport to great fanfare in early May 2015. Despite seven months on the market, many people are on the fence about the Apple Watch, including Silicon Valley insiders who should be early adopters. I think it is perfectly rational to want to wait until the next generation watch comes out. One good thing about being a second mover is that you get to learn a lot of the lessons generated by early adopters cheaply and efficiently. Lots and lots of great reviews are already out there! So why should you read mine? For one, I'm not a professional tech writer– I'm probably like you, the reader, just a normal person who wants to get more out of life with technology. So if you want to know more about the Watch and specifically my experience with the Watch over the last six months, I'll be trying to answer the following questions in this review:
How has it held up during that time?
Has it changed my life? What are six things I like about the Watch?
What other gadgets can the Watch replace to justify the $349 (low end) price tag?
The Unveiling (May 2015)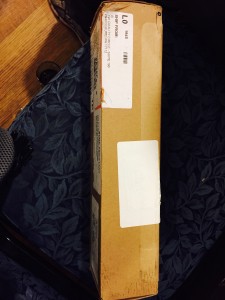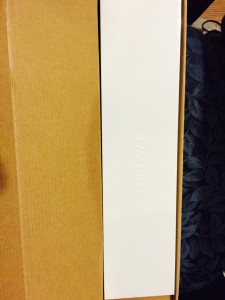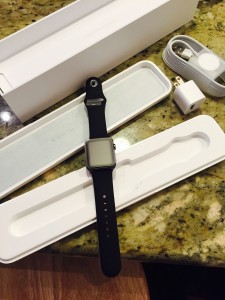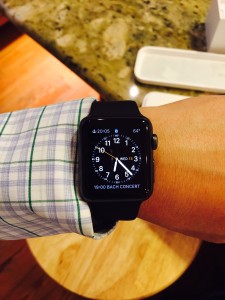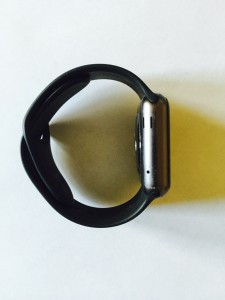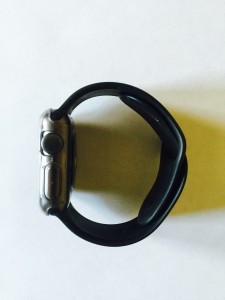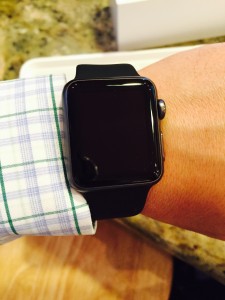 How Has the Watch Held Up? After Six Months (November 2015)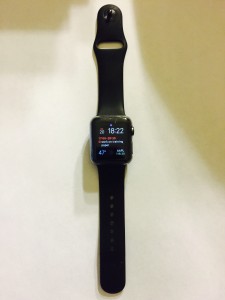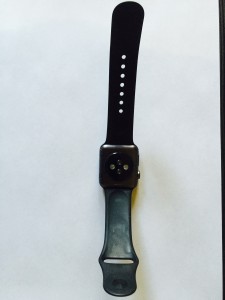 A note on my use: I wore the watch every single day since mid-May. Apparently I average 4.77 miles a day of movement, 13 flights of stairs climbed, and a heart rate of 69bpm. Nice to know!
Durability: As far as durability is concerned, the Watch has held up nicely. The band is slightly faded now, but no physical problems. This is after wearing the watch every day, traveling internationally with it, and always wearing it to the gym / on the run. I've had a case on the watch pretty much the entire time so that has helped. I settled on the Monoy Case after trying several other cases including the Spigen Rugged Armor case and the i-Blason Unity Case. The i-Blason Case felt cheap and the Spigen case I could see using on day hikes but not on a daily basis because the case is really large an interferes with typing a bit. If you really value a slim and no non-sense case that doesn't look like it is there at all, I recommend the Monoy case (despite some tepid reviews on Amazon). One annoying thing about the Monoy case is that isn't waterproof and water gets underneath it, say, from washing dishes. I never wear my Watch into the shower, although I tried that my first week with it and I found that the water would sometimes activate the Watch face /display and waste the batteries.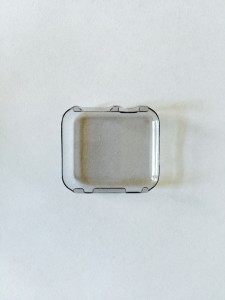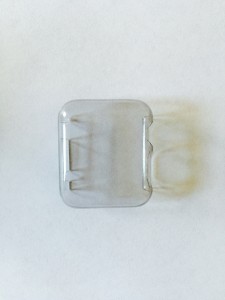 A note on the battery: Is it annoying to charge the battery daily.? Not really. I sleep on average 6-7 hrs a night which is plenty of time to fully charge the watch (takes about an hour IIRC). So unless you don't sleep at all, charging isn't as big of a hassle as people have made it out to be. I did buy an extra charger from the Apple site for travel purposes (I travel almost every week for a few days).
A note on additional straps / bands: I've tried other watch straps such as the one from Monowear design and this metal one from Oittm but the strap that comes with the Watch always felt the most comfortable. The fluoroelastomer band is excellently designed and feels great against the skin.
2. How Has it Changed My Life?
So if you're looking for the bottom line of this post, it is probably here: the Apple Watch is interesting but it hasn't changed my life. This is not a game changing product, as much as I'd like it to be. Can it be in the future? Very much so I think. The reasons why I think so is that the Watch leverages the Phone and as the functionality of your phone increases, so will the Watch and the Watch will get exponentially better in terms of processing power. It is actually pretty convenient to do things on the Watch rather than have to pull out your phone but I still find that it is more convenient right now to pull out my phone. The lagginess that others have reported about Watch functions and accessing apps can be pretty annoying and feels very un-Apple-like in terms of associating the company with polished and quick functionality. But as the convenience curve starts to tilt towards the Watch over the Phone, I can actually see the Watch overtaking the Phone in terms of your primary interface to functions.
Watch OS2: Watch OS2 was a massive step in the right direction, improving the number of built-in functions, available watch faces, and increasing the responsiveness and speed of apps. Apple made a number of built-in functions native to the Watch and that made the app start up and in app navigation speeds increase and lagginess decrease. I still find that some apps don't update properly and some apps still load slowly, but I think eventually they will have this problem solved to the point where the Watch responsiveness feels like the Phone's. Adding third-party complications (the small features on the Watch face) is another step in the right direction and a sign of things to come (I hope). Being able to quickly access deeper information on the Watch face itself reduces the amount of time you spend trying to do something. One could imagine, in the future, being able to turn on or off an ADT alarm or WeMo lights right from the Watch face, which I feel like would be really cool.
What are 6 things I like about the Watch?
Comfortable: the strap is really well designed. I haven't really worn a watch regularly since I left the military and now I'm back in the habit of wearing a Watch.
It Tells Time: look, it does save you some effort– you don't have to pull out your phone any more. Will a Timex do the same thing? Yes…
The Watch Face: the face has a lot of information on it like outside temperature (do I need a jacket?), activity tracker (have I moved around enough today?), next up on your schedule (where do I have to be next?), and stock tickers (how's the market doing right now?). Awesome. It is also really useful to be able to change the face and customize what it displays.
Activity tracker: It is a fairly reliable activity tracker and gives you a sense of how you're doing each day.
Glances: two swipes and you're controlling music, checking the weather and MLB / NBA scores. Another example of the Watch obviating the need to take your phone out of your pocket.
Text Messages and Emails: you can see which messages and emails you've just received and decide if you need to answer it. You can send back a short pre-written text message as well.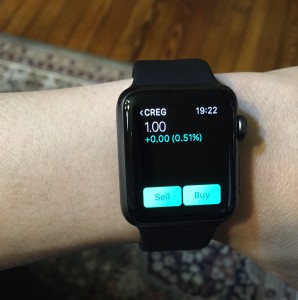 The Watch apps are growing increasingly useful but for the most part, the limited functionality and lag means that if I want to get anything meaningful done I still take out my phone. For example, I once executed a stock trade from my Watch but I haven't done it since then. Another feature I tried once and then never did again was using the Watch to display my plane ticket. It was difficult to rotate your arm into a position so that it could be read by the ticket reader manned by TSA agents. Again, a feature that looks great on a commercial but fails to live up to the hype in real life.
3. Can the Watch Justify The $349 Price Tag?
Price is a concern for many people when thinking about getting an Apple Watch. This is especially the case if you're already shelling out $600-1000 for a phone. One way of thinking about whether the Watch is worth it or not is to determine what purchases the watch would obviate. So what functions can the Watch actually replace (and that you'd want it to replace)?
Premium fitness tracker (Fitbit Surge) – $250
Watch (Timex Ironman) – $25
Alarm clock (RCA) – $10
Wallet (Apple Pay) – $15
Total – $300
So with these four features, it does come close to the $349. If you count being able to access Siri without having to take your phone out of your pocket, I think the Watch does justify the current pricing. I would expect, as Apple products generally do, the price to go down for the Gen 1 Watch when the Gen 2 Watch comes out. Final verdict? The Apple Watch is a good product, and nice for tech savvy early adopters, but not a game changer– yet.