I got hit with a Facebook video ad a couple months ago. It was for a pillow that's unlike any other pillow out there. They likened it to sleeping on the tummy of a jolly fat man.
The timing of this ad couldn't have been better for the advertiser. I had been struggling with a sore neck for the past three weeks. I'm pretty sure I dinged it when I was working out at the gym. My neck got progressively worse over the next week. My pillow, the highly-rated Snuggle-Pedic Ultra-Luxury Bamboo Shredded Memory Foam Pillow, felt like it was making my neck even worse. I had several nights in which I reshaped the pillow all kinds of ways, turned it over and over several times, and even tried sleeping without one. I was fed up and grouchy from my uncomfortable sleep and sore neck.
That's when the Purple Pillow came into my consciousness through a clever ad. It's an entertaining one that's worth watching just for laughs. The promise of a cooler pillow with amazing support felt like a silver bullet. I immediately clicked through and read about the product before placing my purchase. At $99, it was almost double the price of the Snuggle-Pedic, so I had some high hopes. They did have free shipping as well as a 100-night risk free trial offer, so worst case was that I would be able to return it if I hated it.
It took about 2 weeks for the pillow to arrive. By then, my neck pain had dissipated and I was getting by okay with my bamboo pillow. But nonetheless, I was still excited to try out the Purple Pillow. Since buying the pillow, I had also watched the fun ad for the Purple Mattress. I'm not in the market for a new mattress, but the ad made me feel good about the pillow since it would be made using the same material.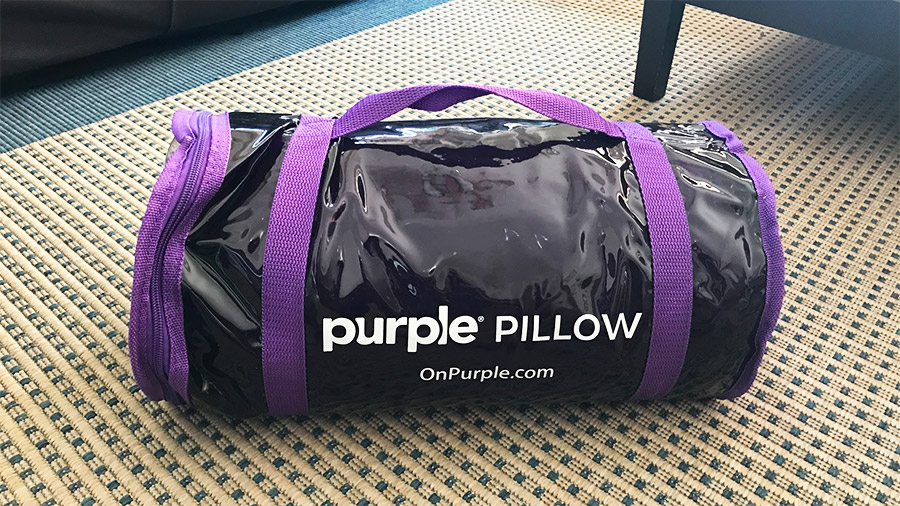 I was pretty excited when the pillow finally arrived. The pillow comes in a compact cylindrical bag. It feels like a nice travel pack. The pillow itself is a purple blob made out of the the company's Hyper-Elastic Polymer material. It came covered in a thin layer of cloth that has a zipper. I opened the zipper to check out the purple blob and to look at the powder that everyone seemed to mention in their YouTube reviews of the product. I forget why the powder exists. My guess is that it keeps the Purple blob from sticking to each other too much.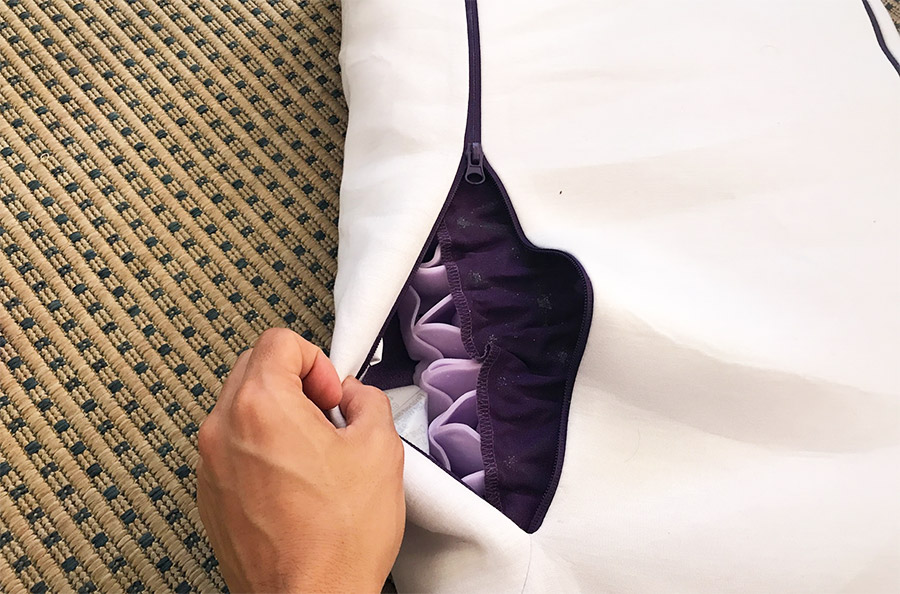 They also packed a couple of small square pieces of the blob so you can get a feel for the Hyper-Elastic Polymer. It's like a Jell-O that's become inedible, impenetrable, and harder to take apart.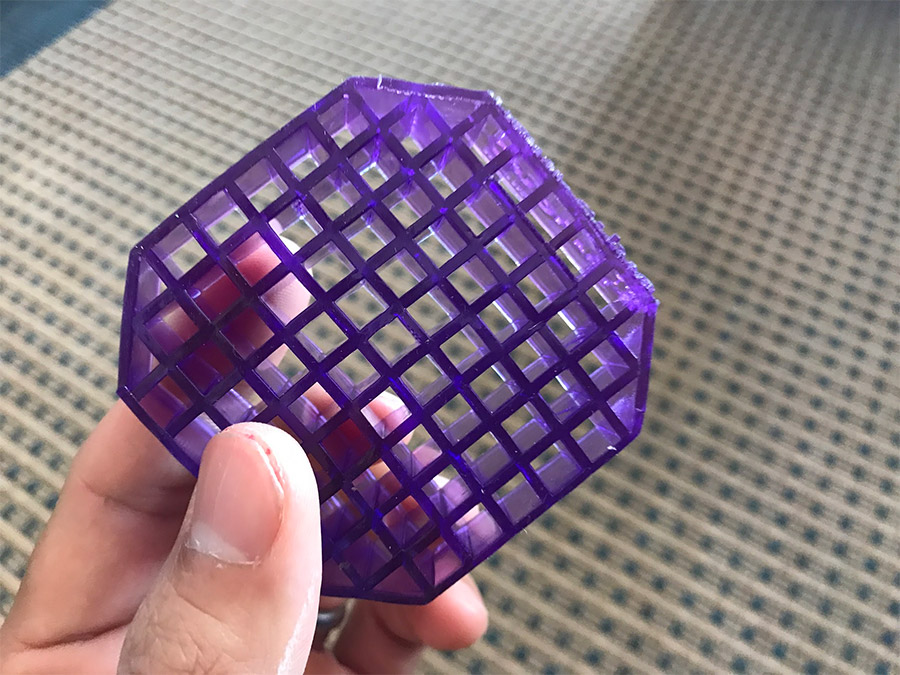 There is also a "booster" layer that you can blow with air if you need more height on the pillow. I decided I didn't need this at all.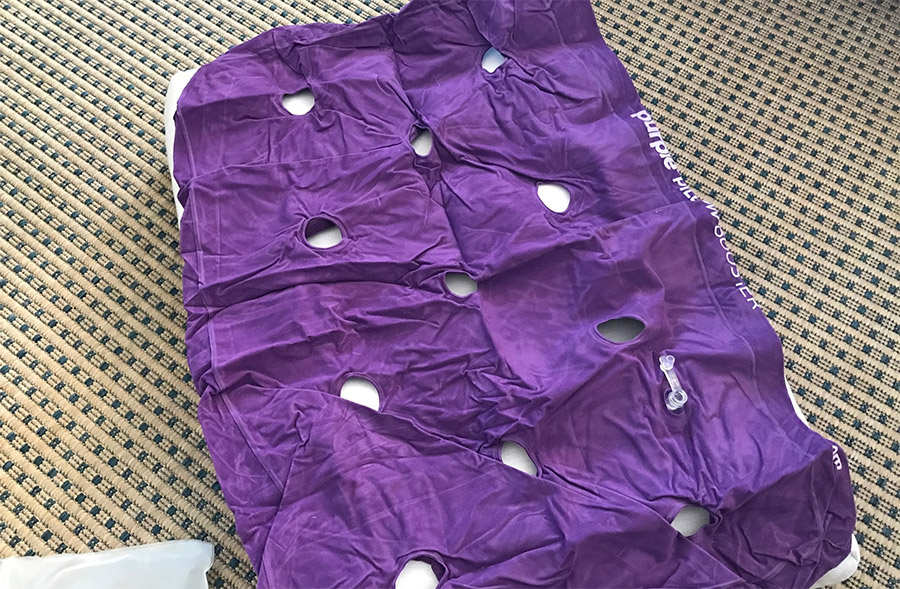 The pillow is fairly heavy and not easy to pick up quickly. I transported it to the bedroom and put on a pillow case. The viscous shape made it difficult to get the pillow into the pillow case but I managed after a few minutes.
I gave it a go and laid down on my back, head on pillow. It felt amazing. Immediately, I felt support yet a very soft and tender embrace of my neck and head. I noticed that the pillow wouldn't let my neck slip into an awkward pose but would actually bounce me back into alignment. I knew right then that this pillow was here to stay.
Of course, I decided to be real sure and use it for over a month before writing this. It's been four-plus weeks and I can say with confidence that the Purple Pillow is the real deal. Every night, I look forward to laying my head down and slowly dozing off. My head, which usually heats up during the night, hasn't felt uncomfortably warm on this pillow. I no longer crave the cool side and feel no need to flip it.
My wife is a big fan too and tries to put her head on it when I'm not there. I told her I'd get one for her soon. Her only gripe is that she felt the pillow had a strong plastic-like scent for the first couple of weeks but I asked her recently and she said the smell is no longer there.
For me, my only complaint is that the viscous nature of the pillow makes it hard to stand up against the bed board for when I meditate in the morning. These days, I end up using my wife's pillow for back support when I meditate. Thankfully for me, she's already left for work by the time I get up. But if she gets her own Purple Pillow, I'll have to keep a spare pillow handy to use as back support.
Sleep is one of the most important activities in life. I've tried many things this year to improve my sleep including cutting out coffee from my daily routine, reducing alcohol intake in the evenings, and going to bed earlier. The Purple Pillow, with its comfort and support, is yet another element in my pursuit of a good night's sleep.
Update June 26, 2018: Nine months later, the Purple Pillow is still part of my daily sleep. When I travel and have to use hotel or AirBnB pillows, they're never as comfortable or cool as the Purple Pillow. As the weather has gotten warmer, I think the coolness is really one of the best aspects of this pillow and a big reason why I don't toss and turn at night like I used to.
I've recommended the Purple Pillow to friends. One friend, who is very sensitive when it comes to smells, complained that the plastic-like stench never went away. He also didn't think the pillow was as comfortable as I did. He ultimately ended up returning the pillow after a few weeks. So I would say that while my wife and I have been immensely happy with the Purple Pillow, effectiveness may vary based on your personal preferences.
Update December 15, 2019: I'm still loving my Purple Pillow and can't imagine my life without.