I distinctly remember the feeling. After an 8-mile run on a Sunday evening, I stood in my shower and felt a prickly sensation on my nipples as the water ran down my body. Ouch. I looked down and saw that my nipples were reddish and looking raw. On previous long runs, I had worn a tight Underarmour shirt that had zero sway with my movement. This time around, I had on a looser shirt and I paid the price. The running had caused some major nipple chafing.
I knew I didn't always want to wear a tight spandex shirt to run, so I looked for options on ways to prevent nipple chafing online. Vaseline seemed to be a popular method, but I didn't particularly find the idea of applying the greasy and oily substance very appealing. I read up some more and came across Body Glide Original Anti-Chafe Balm. They sell what looks like a deodorant stick that you can apply on various parts of the body to prevent chafing.
What I like about it is that it's not oily and greasy at all. It actually feels very much like a deodorant stick as well. There is no scent, which I very much appreciate. And unlike deodorant, it doesn't clog up pores and lets sweat escape. It also claims to be safe for clothing and footwear, which is nice because I know that deodorant can sometimes mess up or leave weird stains on clothes.
I can't speak too much to the ingredients. Here they are:
Caprylic/Capric Triglycerine, Cetearyl Alcohol, Ozokerite Wax, Glyceryl Dibehenate, Tribehenin, Glyceryl Behenate, Stearyl Alcohol, Allantoin, Tecopherol (Vitamin E)
So how did it do?
The first time around, I applied the stick on both my nipples before going on another 8-mile run wearing a similarly loose shirt as the last time. Afterwards, I noticed that my left nipple felt just fine but my right nipple was still raw. I realized that I didn't apply it as thoroughly to the right nipple as well. I made a mental note of this for the following week.
The next week, it was time for a 9-mile run (I'm laddering up my training for a marathon race in a few months). I made sure to vigorously apply Body Glide five to six times over each of my nipples to make sure they were adequately covered. I had what felt like a very thin waxy coat on my chest. Once I finished my run and came back, my nipples felt great and there was no redness to speak of.
I'm sure it differs for each person, but I've noticed that for runs less than 7-8 miles, I don't really need to apply Body Glide. For example, on my 3-4 mile runs, it's not long enough for chafing to really have noticeable impact. However, as my training intensifies in the coming weeks, I'm sure I'll discover chafing on parts of my body beyond just my nipples. Body Glide can be applied on other parts of the body including thighs, feet, arms, and anywhere else that skin gets rubbed.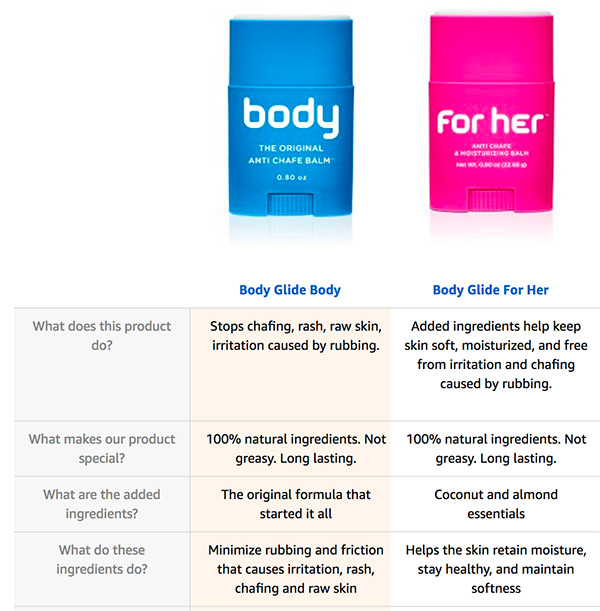 One thing I noticed was that they sell a Body Glide for Her in a pink-colored stick. The main distinction is that "coconut and almond essentials" are added to "help keep skin soft, moisturized". I don't get why only the "Her" branded version gets this added benefit. I just went for the blue one and ignored the pink stick initially but come to think of it, I wouldn't mind getting a version of Body Glide that not only protects my nipples but also keeps my skin soft and moisturized. My guess is that the folks at Body Glide felt that women would value the soft skin benefit more than men and pay the extra (it's double the price). I think in the coming years, when more and more men adopt skincare routines that rival the spending of women, a company like Body Glide will rethink their strategy.