What job does your watch do for you?
I have four watches and each one says something slightly different about me. At one time I had five. About a year and a half ago I wrote a blog post about the Apple Watch. I actually sold my Apple Watch to a family member a few months ago. I stand by all the benefits I laid out in my original post but I don't think I really understood the downsides of a smartwatch at the time. The biggest issue is that the watch was on me at all times because I wanted to use it as a fitness tracker. This meant that I was tempted to use it for at least a few notifications. But even with the sound turned off (eventually vibration too) and notifications turned to a minimum few, I couldn't shake the feeling that the watch was wearing me instead of the other way around. Sometimes this meant anticipating the hourly "stand up!" exhortations– other times it meant meaninglessly scrolling through watch apps or looking at the stock ticker on the face.
For my attention's sake I got rid of it. Many of us are faced with this dilemma daily, especially those who do deep work (Cal Newport's term for effortful, creative work that requires concentration).
But I didn't get rid of my other watches. In fact, I found myself wearing them more often, after going for a few months with just my phone for telling time. That didn't last long. The temptation when you pull out your phone to look at the time is to swipe and look at the other things going on in there. Not the kind of behavior I wanted to turn into a habit.
The watches that I do have are functional and I've had two of them for a long time. Many people associate the word functional with "utilitarian" or even "ugly." That's definitely not the case with these watches. Read on to find out more about the functional watches I have and my watch wearing philosophy.
The Four Watches On My Nightstand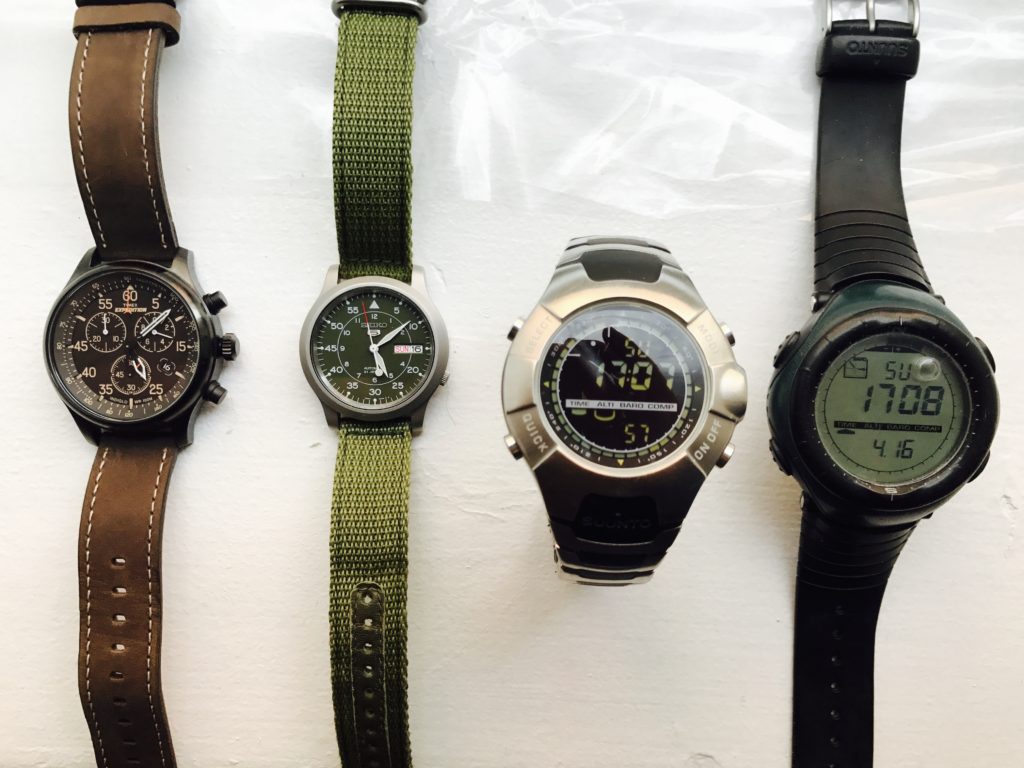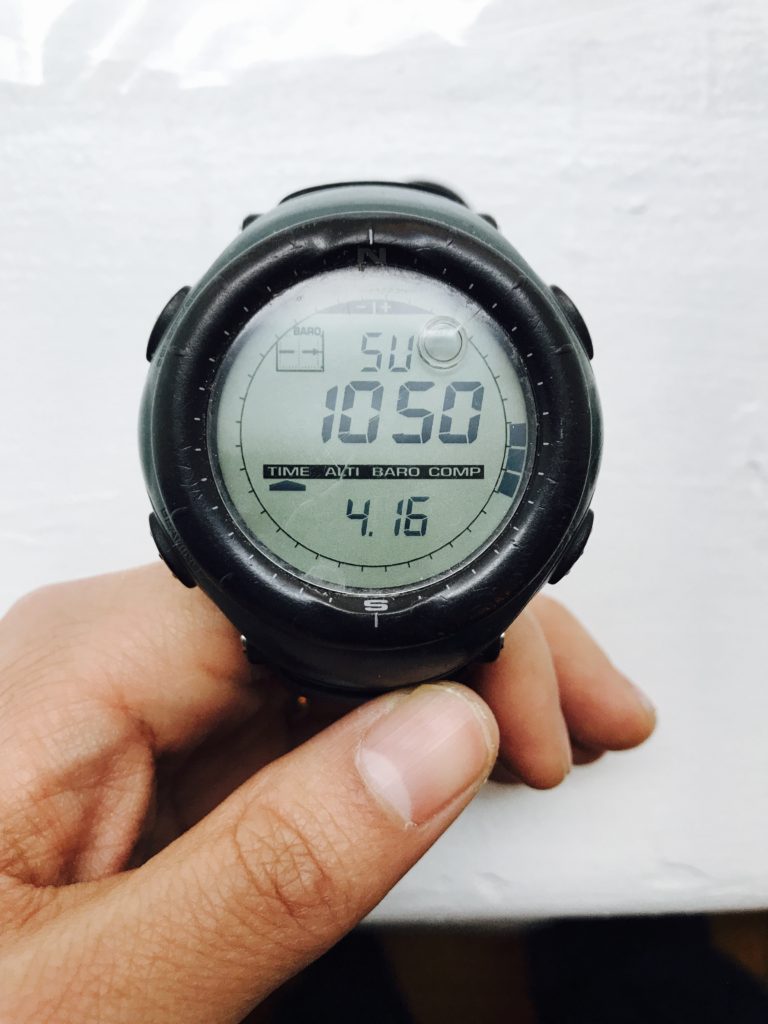 My first expensive watch purchase was a used Suunto Vector (the green watch all the way on the right). I purchased it on eBay in 2004 and have had it for quite some time. I did a little bit of research and determined that the Suunto was probably the best watch on the market at the time. Suunto, a Finnish watch company started in 1936, is probably best known for the Vector "mountain watch." Not wanting to shell out hundreds of dollars for the watch, I was able to snag one used for about $80 (IIRC). I originally purchased it as an "at-a-glance" aid for land navigation practice, although we weren't allowed to wear them on actual test courses in the Army. I've had the Vector for almost 13 years now and this one has made it through two tours in Iraq and a tour in South Korea. What I really liked about this watch was the number readability and the altimeter. It turned out the altimeter was super useful for both hiking and parachuting, since military static line operations are done from lower altitudes and the cabins aren't pressurized. Even in civilian aircraft, I always found the altimeter super interesting to look at while the plane went into descent mode. The durability of the watch was also a big plus. One major minus was the energy hog of a battery. The Suunto Vector is well known to have bad battery life (it does a lot so this is to be expected) and in 2009 I got a watch battery lifetime warranty for the watch so I would always be able to get a new one. The markings on the outer bezel have all been worn off now but the watch still functions perfectly well. I'm actually fairly surprised at this considering how much abuse the watch has been through. The Vector went with us on our recent cross-country trip to visit a slew of National Parks. You can grab a Suunto Core, the successor to the Vector, off of Amazon for about $200 nowadays.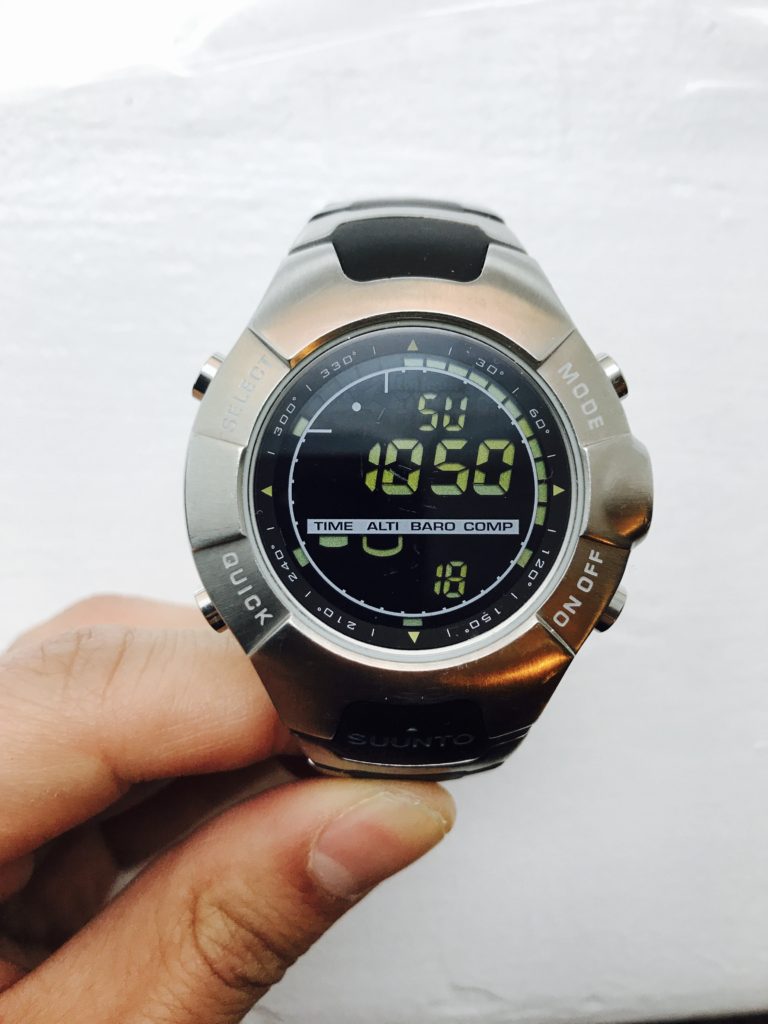 After my first Iraq deployment I decided I needed a slightly fancier watch. The Vector, while a nice watch wasn't exactly the kind of thing I wanted to wear to meetings (which at that point, I was having to attend more of). I wanted to stick with something functional so I picked up an Observer. The Observer Titanium edition retailed at about $550 when it was sold (it has since been discontinued). The watch's popularity suffered due to a widely panned strap. I never really had any issues with the strap but it was somewhat restrictive and probably fit better on a smaller wrist. It has all the functionality of the Vector and the slightly more polished look gave me the kind of watch I felt comfortable wearing in more formal settings. To this day I'll put on the Observer for board meetings and other events. Eight years on and still going strong. The Observer suffers the same battery issues as the Vector so I wound up getting a battery warranty for it too.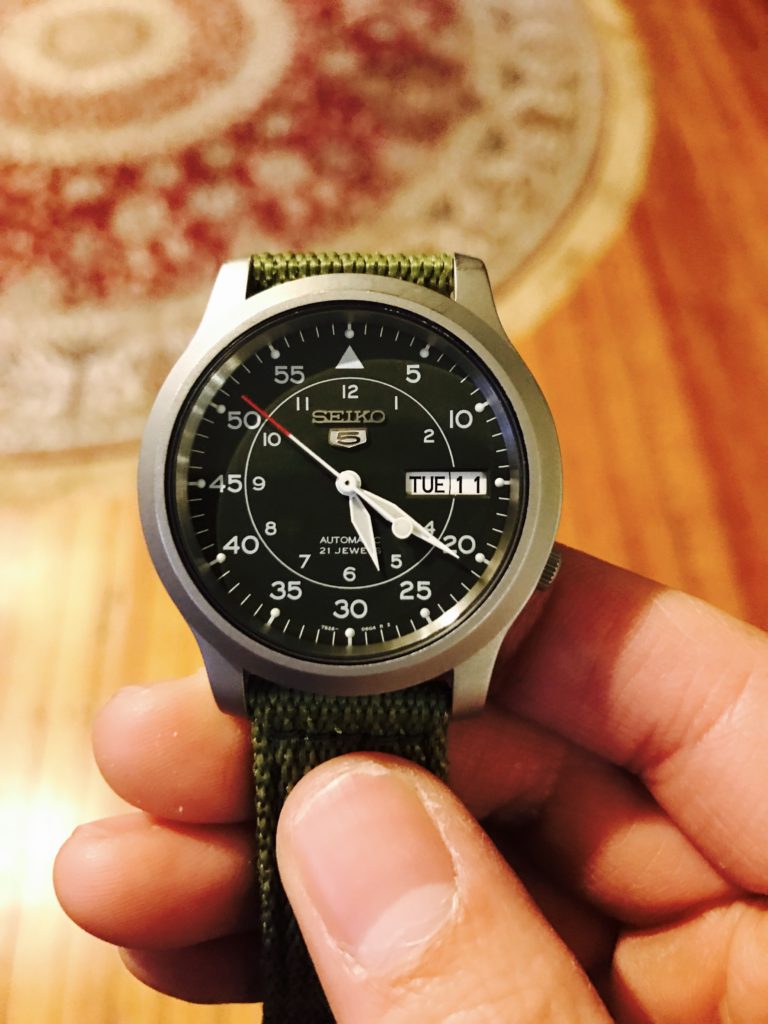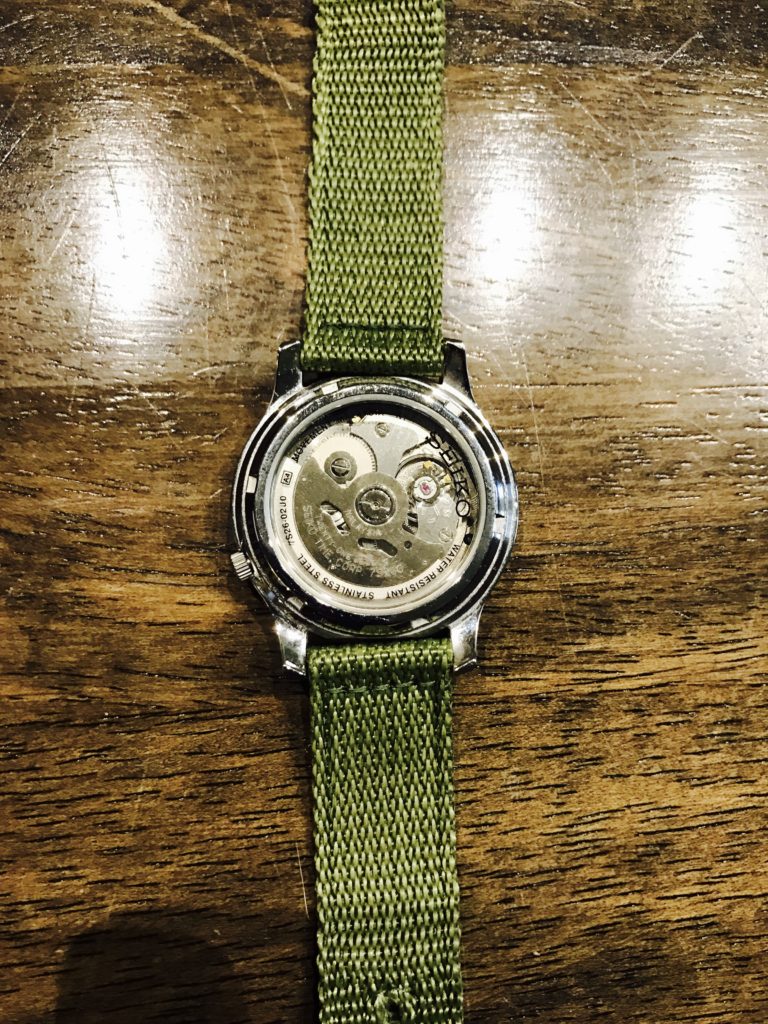 The Seiko 5 is probably one of the most legendary watches under $100 in existence. Considered by many to be one of the most reliable timepieces, the Seiko 5 was the first mass-produced accessibly-priced automatic watch. The Seiko 5 has the smallest face of the watches I own and it has a nice illumination feature which doesn't take a long time to charge up in the sun or under a lamp and lasts for a few hours in complete darkness. The best part about the watch is that it is an automatic, meaning it has a self-winding mechanism that is powered by your movements. This means that the watch never needs a new battery. Even if you leave it on the nightstand for a day, the watch typically has 30-40 hrs of "charge" stored so it won't be frozen when you put it back on a day later.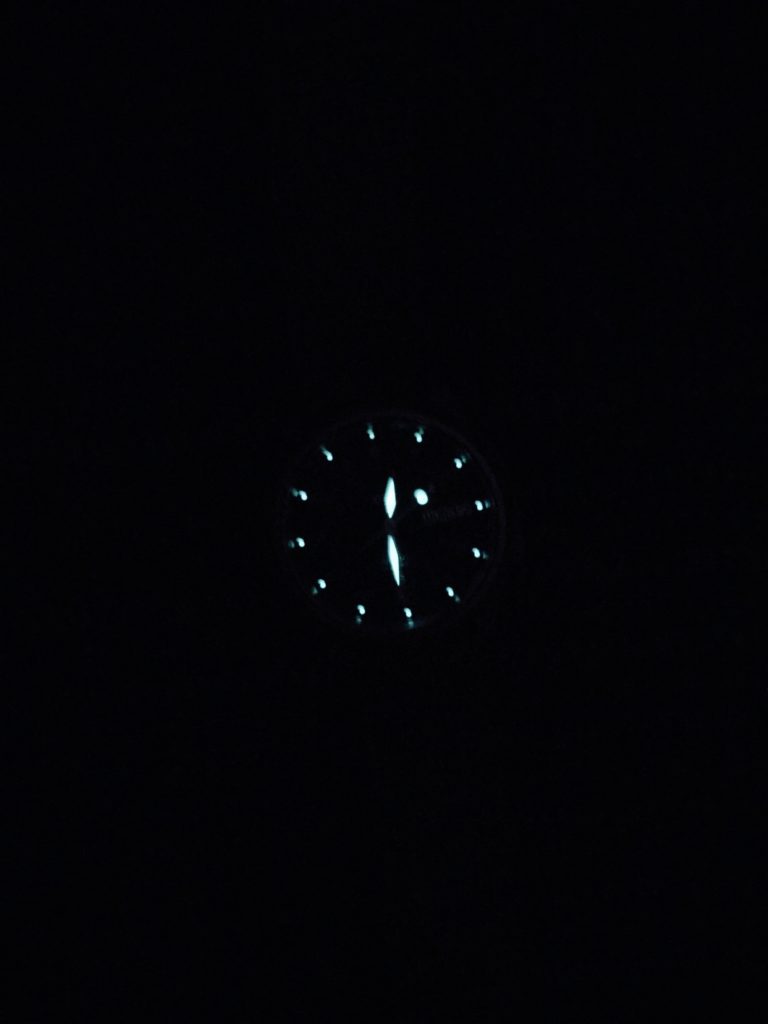 The Seiko 5 is a favorite of many online reviewers, including Watches You Can Afford (88% rating) and Worn and Wound. What I like about this watch is its slim profile, its durability (water resistant and never needs a battery), and reports that it can last 25-30 years without needing any maintenance. This is the watch you want when the zombie apocalypse arrives. I got lucky again as I bought this watch used on Amazon for about $35. On a per wear basis, it is going to be in the 10 cent range by the time the year is out.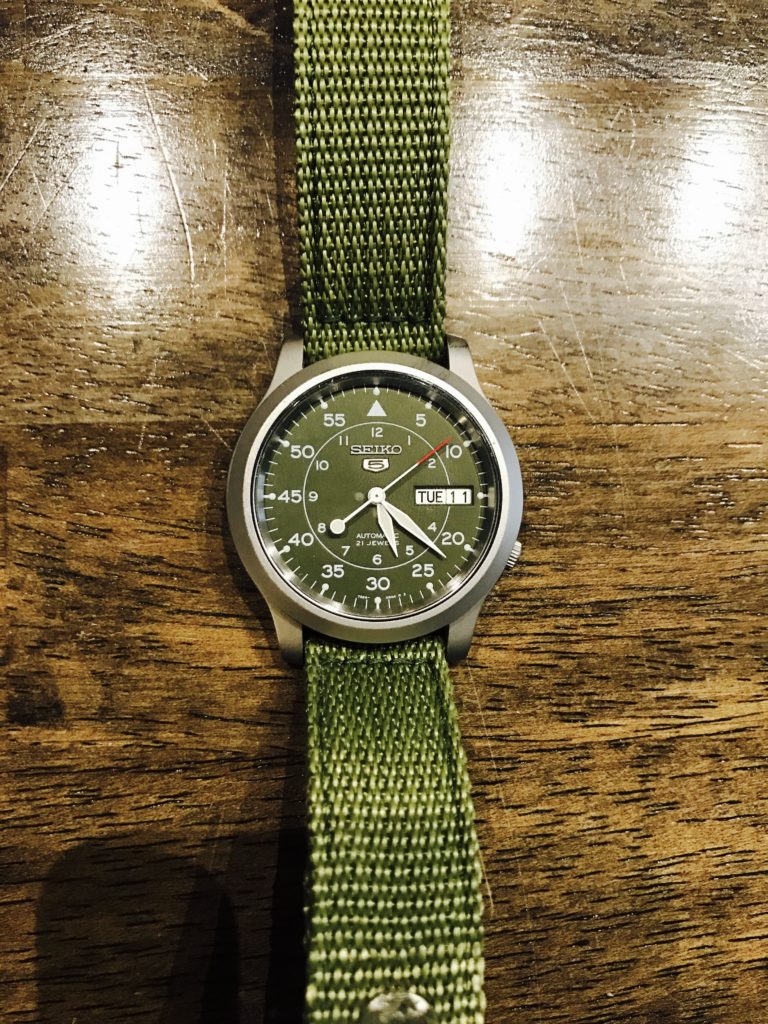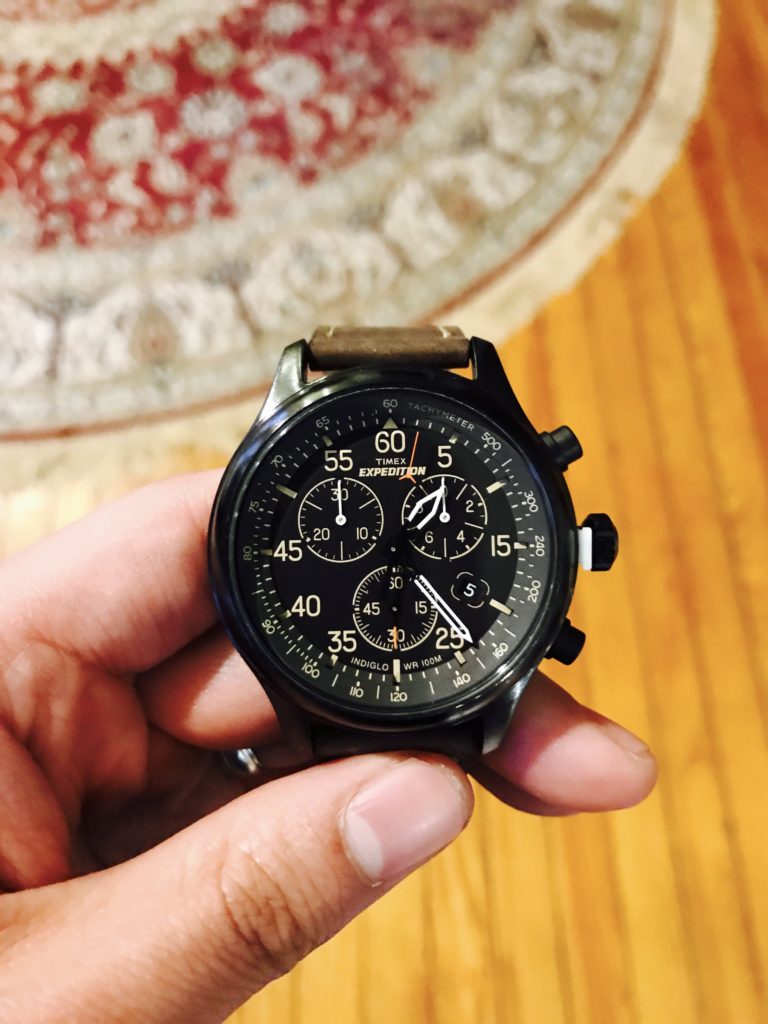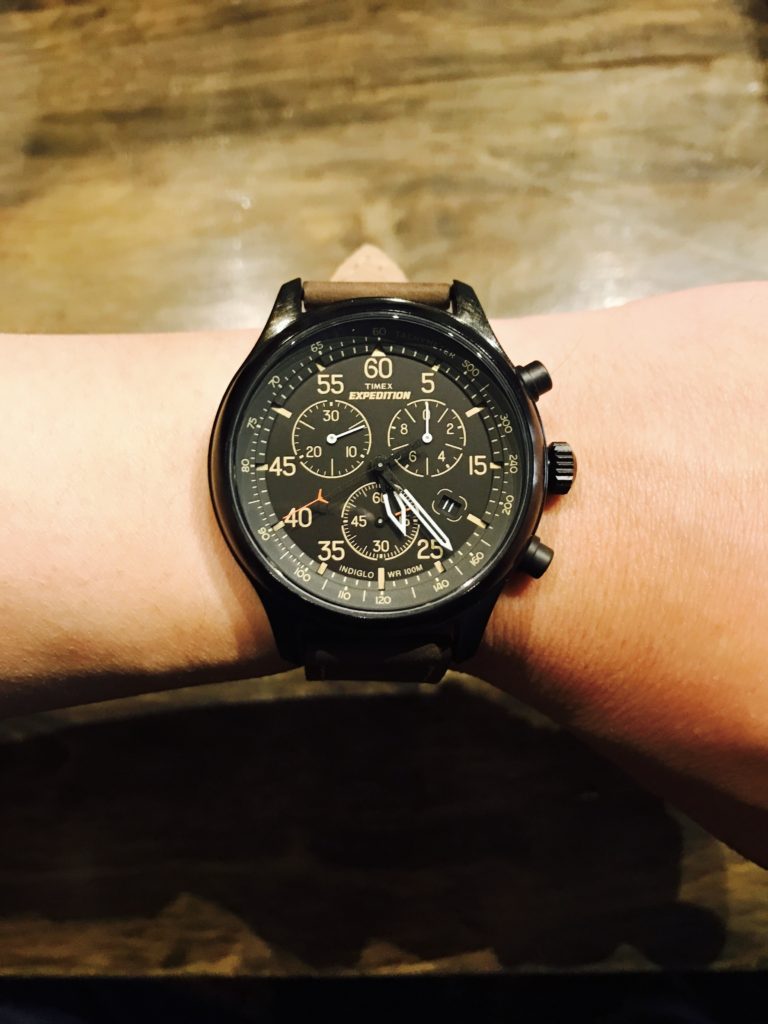 Like the Suunto Vector, I sometimes felt that the Seiko 5 was a little bit too informal, even for everyday wear. So I decided to get a little bit fancier (but not too fancy) with a Timex Expedition Scout Chronograph. I recently received a gift card after participating in a March Madness prediction survey and managed to get a Timex with the gift card. The watch face on this watch is slightly bigger but the watch feels really durable and the leather strap is very comfortable. I'm fast growing to like this watch and hope that it'll remain a mainstay in my rotation.
To summarize, I'm not big on super fancy things in general. I don't drive a fancy car or anything like that. But what I do like is durable, long-lasting, and reliable products like the watches mentioned here.
What's on your wrist right now? Comment below! And thanks for reading!