After spending most of my life wearing cheap cotton socks, I've become an evangelist for wool socks. Starting with Smartwool and Wigwam socks from CostCo. a couple years back, I immediately felt the benefits of wool socks. They were more durable, odor-free, and kept my feet warmer than cotton socks. In New York, where I live, the winters can be brutal, and having the right socks on can be a huge boost to daily comfort.
Last year, I stumbled upon a brand called Darn Tough. Based in Vermont, Darn Tough was conceived in an effort to keep the family-owned Cabot Hosiery Mills in business. They specialize in making high-quality socks and they also offer an unconditional lifetime guarantee. All you have to do is fill out a form and send your socks back and they'll replace it, no questions asked (I have a couple socks on their way because my dog chewed holes into them — update 12/14/15: see the end of the article for what happened).
Retailing at $15-20/pair, Darn Tough is not cheap. However, if you factor in durability and the lifetime guarantee, I think it's a pretty fair price. I opted for the Merino Wool Micro Crew Cushion Hiking Socks in black. I thought it was a good-looking sock and the length seemed just right. Here's the mix of fabric:
61% Merino wool
36% Nylon
3% LYCRA spandex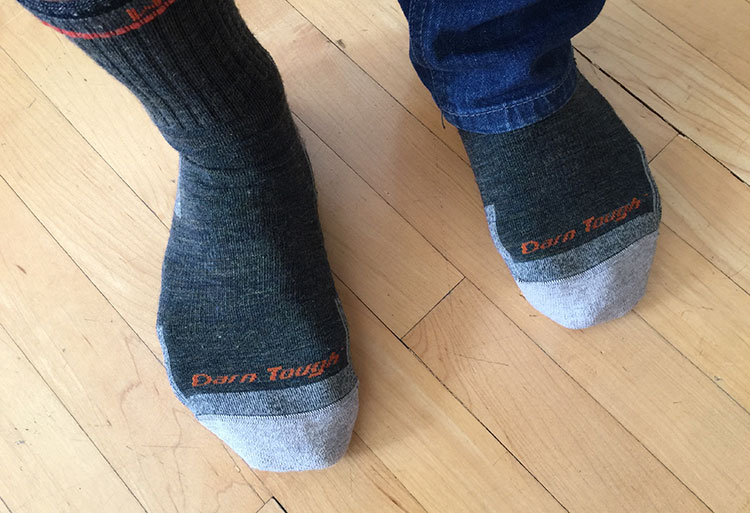 Here's how I knew it was a good sock: I found myself wearing it for days at a time. It's not as gross as you think. The merino wool fibers helped keep my feet dry by wicking moisture and the antimicrobial nature of the sock prevented it from becoming smelly. The best part is the fit — I bought a size medium for my very wide size 9 feet and love the way it fits perfectly without feeling tight or too loose. The sock never slips or bunches around the ankles, which is a big plus. I also find that the extra cushioning at the bottom makes the sock feel a lot more comfortable and luxurious.
The other week, my dog got his paws on my Darn Tough socks and went to town. I think the durable nature of the sock made my dog even more determined to chew through it. It was a small hole and the sock was still wearable, but I thought I would go ahead and order some more pairs while I sent this one in for the lifetime guarantee replacement. A few months back, I had bought a pair of Darn Tough Vermont Men's Warlock Crew Light Cushion Hiking Socks. They look great and had a nice fit, but I found them too thin to be a good winter sock. I'll probably wear them again in the spring and summer. This time around, I opted to stick with the thicker Crew Cushion Hiking socks and ordered three pairs.
When I received the socks in the mail, I felt like a little boy on Christmas morning. They're just socks, I know, but the combination of the following things made me happy:
I knew I was getting a quality product
I knew they were going to be used quite heavily this winter, and so it was a very practical purchase
I was excited by the different colors (who knew a a touch of green or a little splash of orange could make a mundane product so much more fun?)
I told myself that I would make Darn Tough's socks my primary gift item for friends and family this year—basically, I'm planning on stuffing their stocking with stockings.
Bonus: I also wear the Darn Tough Men's Tab No Show Light Cushion sock for when I go running. They're the ankle-less socks that have the same great qualities of the other wool socks. After noticing the difference between the way a cotton sock soaks in all the sweat versus the way these socks wick moisture away, I tossed all my athletic cotton socks. I also love that these never smell awful even after I've forgotten to take them out of my gym bag.
12/14/15 update:
I sent in two pairs of socks in to Darn Tough about a month ago. My dog had chewed holes in one sock of each pair. I downloaded their Warranty Form, filled one out for each sock, and mailed it in.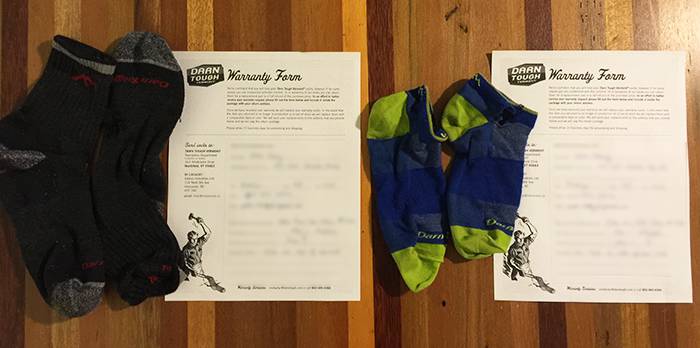 Four weeks later, I received the brand new socks. True to their word, there were no questions asked. I just got my new socks. Very cool.