If there was a popularity contest between Summer and Winter in Northeast United States, my money would be on Summer. Even though summers here can be intolerably muggy and incur high electricity bills from the air conditioner, there's something about its more relaxed pace and its breezy, comfortable nights that beats the bitter cold and long, dark nights of winter. And then there's outdoor BBQs, trips to the beach, and walking around in sandals.
I've been curious about how seasons influence buying patterns. To celebrate these summer months, I decided to reflect on my summer purchases and to think about why I made them, maybe even delve into the "job" I hired them to do.
The Biggest Change: What I Buy to Eat and Drink
Grocery shopping, because of the frequency, becomes the most obvious buying activity that's impacted by the seasons. Let's first start with the purchases that stopped because the weather turned warmer:
Tea: I was buying a box of rooibos tea bags every 2-3 weeks; after daily evening temperatures rose above 70 degrees, I stopped buying.
English muffins: I was eating English muffins every morning (see how I ate them), but once mornings became warm, I switched over to having smoothies instead
Peanut butter: I was going through a jar of peanut butter every 2 weeks because of my English muffin habit, but consumption of peanut butter stopped in the summer
I must note that the produce I typically buy are available year-round. Blueberries, bananas, avocados, baby spinach, and dates are sold at Whole Foods without interruption, so I continue to buy them.
Here are the items that started to show up each time I went grocery shopping:
Ice cream: I love Van Leeuwen's Vegan Mint Chip ice cream. It is really pricey at $10-11 a pint, but it's a worthwhile indulgence. I'll also sneak in a pint of sorbet, either mango or lemon flavor
Watermelon: eating a cold slice of watermelon or drinking a watermelon smoothie made with my Vitamix is the perfect antidote to a hot summer day
Beer: I typically don't buy beers for home, but during the summer, I don't mind having a six pack around in case I want a cold and refreshing IPA or pilsner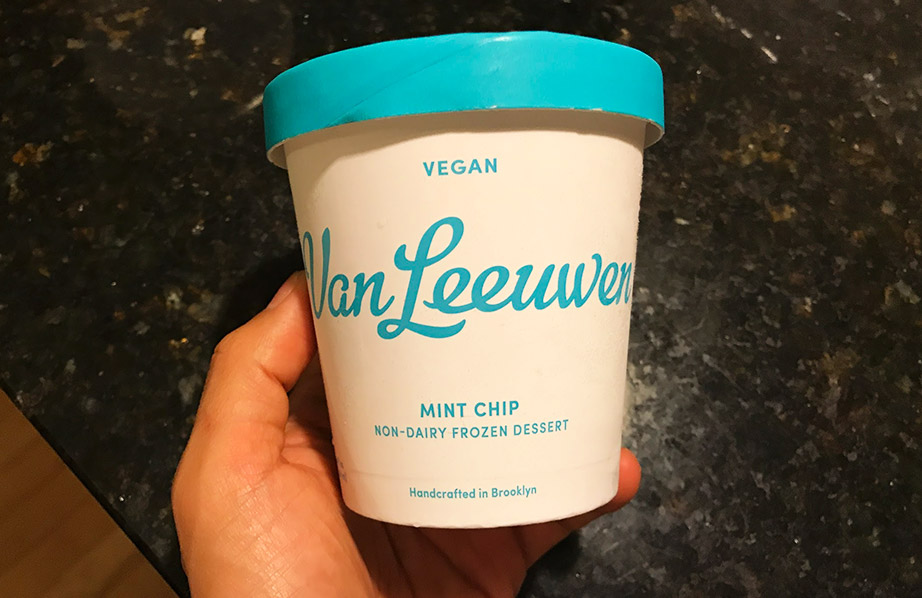 The biggest change is that my breakfasts in the summer do not consist of English muffins or oatmeal, but instead, are mostly fruits or green smoothies. My favorite smoothie combo so far this summer: kale, baby spinach, bananas, mangos, blueberries, dates, flaxseed, and cocoa nibs.
In New York, grocery stores don't sell wines, so I go to a nearby wine store to pick those up. When the weather warms up, I switch over from red wine to white and rosé. I love having rosé with salads, light pastas, or Asian foods.
Speaking of foods, I've also noticed that dining options evolve from winter to summer. I tend to go for less hearty meals like Indian, pizza, or French and instead opt for more Mediterranean fare (hummus! Greek salad!) as well as Asian foods like Thai (papaya salad!) and Vietnamese (summer rolls!). One of my favorite summer dishes is a corn pesto that my wife makes at home, which she then mixes with pasta and fresh cherry tomatoes. Perfect with, you guessed it, rosé.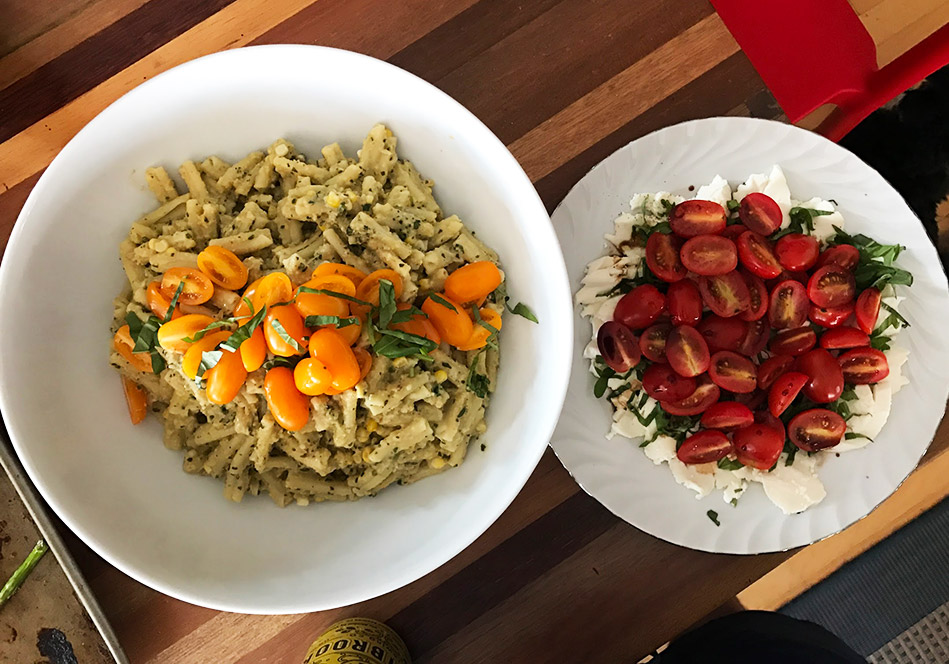 And lastly, on weekends, instead of making coffee at home on my coffeemaker, I'll venture out to a nearby cafe and treat myself to cold brew coffee. This might change as I'm contemplating weaning myself off of coffee, but as of this past weekend, cold brew was definitely a worthwhile purchase.
So when thinking about the buying pattern here, it's all about how the food makes me feel. With rising temperatures, the food functions as a coolant for my body. But it's definitely more than that. There's the sweetness of ice cream and watermelon that evokes some kind of nostalgia. And the sound of a beer can being opened brings a kind of relief and relaxed feeling. They are more than things to consume through my mouth. They're sensory experience devices being hired to validate that it is indeed summer.
No Need for Clothes
The summer does not make me want to buy any clothes. I don't want to own more pairs of shorts. I don't want to buy more t-shirts. I begrudgingly bought a new, lighter suit (in color and weight) from Indochino because I was tired of wearing the same dark suit to weddings and there are a few I have to attend this summer. And unlike my wife, who sees the summer as an opportunity to refresh her collection of bathing suits, I am content with my swim trunks (it's actually just a gym short with mesh lining that works fine in water) that I've had for 3+ years now.
Summer Reading
My reading list shows me that I don't finish any more books during the summer months than I do during the rest of the year, but I know for a fact that I end up buying a lot more books. Part of it is knowing that I'll be going on vacations or hitting the beach on weekends. While I rarely end up reading much on these occasions, I'm always romancing about laying down outside and being engrossed in a book for hours at a time. In addition to the 3 books a month I get to listen to via Audible, I've purchased, since June, 8 books via Kindle or physical format. I would've assumed that summer might encourage more fiction reading, but the list is an even mix of non-fiction, memoirs, and fiction.
What a Boring List
I was hoping to find some great insights on buying patterns of a married thirty-something male, no kids, living in New York during the summer months. Instead, all I got was a few grocery items and rosé.
By the way, the best purchase of the summer has been Monopoly Deal, a card game (priced under $10) that's addictively fun and great for a good time with friends on the rooftop patio.