A few months ago, I decided to run the 2017 Brooklyn Half Marathon with some friends. As a novice runner, there was a lot of work that I needed to do to be able to complete the race. To help supplement my training and provide some data along the way, I started looking for a watch that would be able to track my running speed, distance, and heart rate.
There were a few pieces of criteria that I had when looking for a watch:
Most importantly, it needed to track pace and distance accurately for running
I wanted a wrist-based heart rate monitor (I tried using chest strap heart rate monitors in the past and they all were uncomfortable and caused chaffing)
I wanted something stylish enough I could wear on a daily basis
Things I didn't care for:
I didn't need my watch to feed me updates from my phone, so smart watch capabilities were not important in my decision process.
I didn't need the watch to excel at tracking Swim/Bike/etc
The Competition
I strongly took a look at the Apple Watch Series 2, with it's supposed improvement in running performance with the built-in GPS tracking. The Nike version of the Apple Watch Series 2 was aesthetically appealing and I assumed with the backing of Nike that the tracking performance would have been improved since the first version of the watch. After reading numerous reviews, I found that people were consistently having trouble with the watch keeping up with change in running speed. Over long runs, the Apple Watch did a decent job of tracking pace, but in situations where speeds may change suddenly (for example sprint interval training), the watch wasn't able to adjust quickly enough.
Garmin is regarded as industry-leading for these types of sport/activity watches, so I looked at a few options. The Vivoactive HR watch was rated highly among all the options. Functionally, it fit all many of my requirements but I personally thought it looked more like a smart watch and less like a fitness watch. I also explored the cheaper Garmin Forerunner 35, which did accomplish all my immediate needs. However, I was able to get a steep discount on a select number of Garmin watches through a friend's corporate discount, so I ultimately settled on the Garmin Forerunner 235.
The Garmin Forerunner 235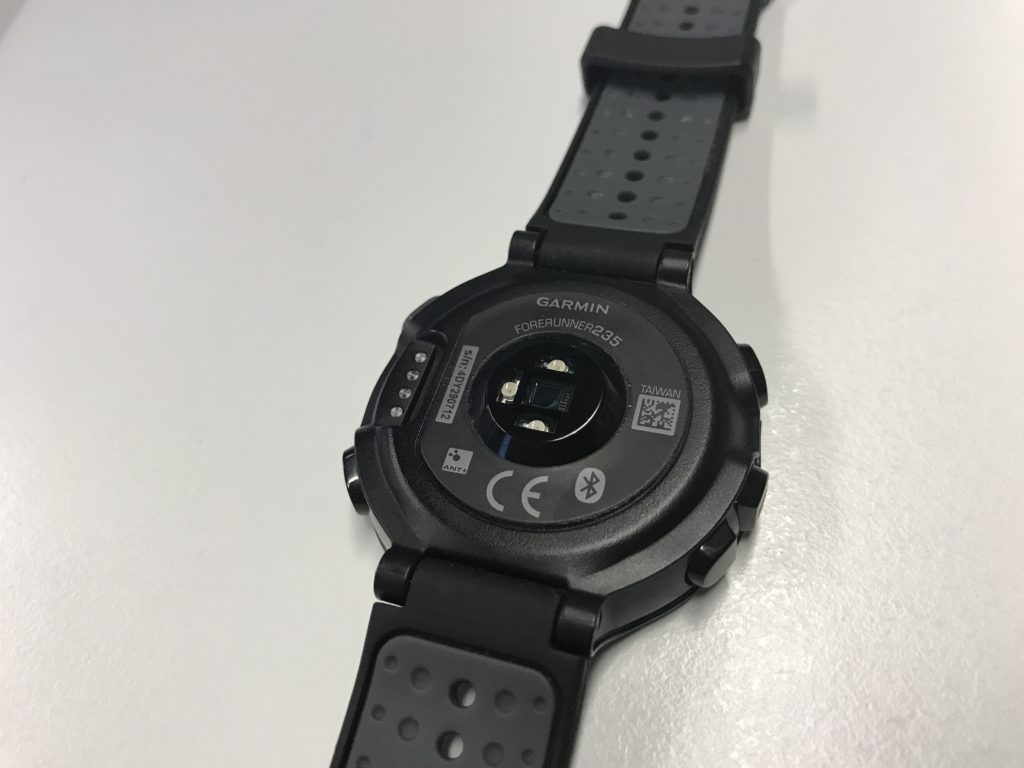 The Garmin Forerunner 235 does a great job at tracking running performance. During your run the watch displays your pace, distance, and run time, and you can also switch the view to show your heart rate. After your run, the watch syncs your run data via Bluetooth to Garmin's iPhone app, which is a pretty seamless experience.
The Garmin Forerunner 235 has something called Connect IQ, which is Garmin's attempt at adding "smart" functionality to the watch. There are apps for to send you notifications for things like calendar alerts and text messages, and also an app to show the weather on the phone. I'm personally not a fan of wrist-based notifications, so I turned off all the notifications. There are only two notifications that I can't quite figure out how to turn off – one that reminds you to "Move" after a certain time interval, and another notifying you that the watch is going into power save mode. The power save notification is quite annoying because it buzzes and beeps for 30 seconds to warn you that it's about to go into power save mode.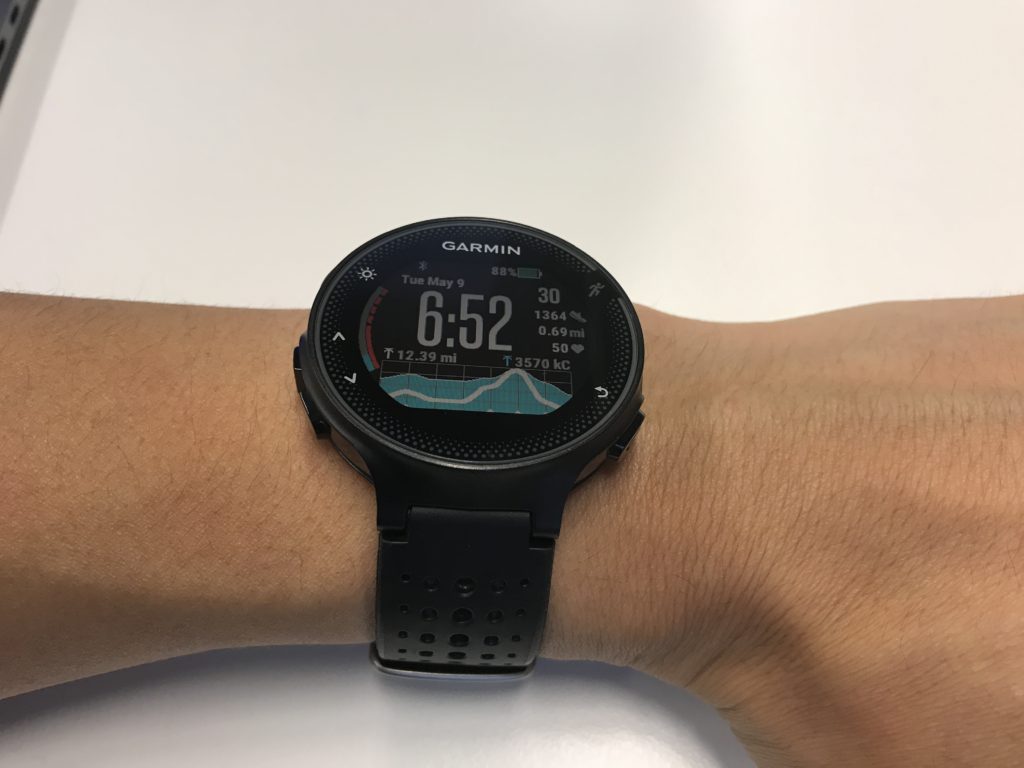 You can also add custom faces to the watch via Connect IQ. I used this one called ActiFace which is a third-party face available for free from Garmin. I'm not sure what all the numbers and lines mean, but I think this face looks cooler than the stock face that comes with the watch.
Other features:
The watch tracks your steps throughout the day. This is interesting to see, but I usually take off my watch when I'm working at my desk.
The watch continually tracks your heart rate throughout the day. Similar to the point above, the watch isn't on my wrist for the majority of the day so this functionality isn't that useful to me.
The watch monitors your sleep activity and shows you when you're in light and deep sleep and if you wake up during the night. I tried this for a few nights when I first got the watch, but now I prefer to sleep without wearing the watch.
One note is that the battery life for the watch isn't that great. I typically get around 3-5 days of charge from the watch and possibly less if I have a long run during that time period. The charger is proprietary so you need to be mindful of bringing the charging cable around if you need to charge the watch.
Garmin iPhone App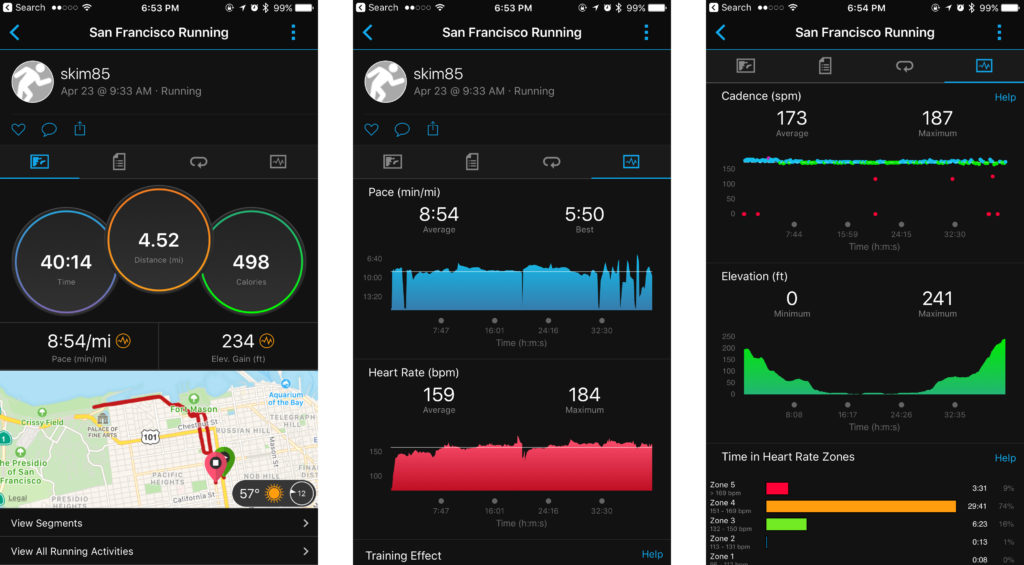 The seamless integration of the watch with Garmin's iPhone App completes the overall experience of the watch. If you open up the app after the run, the watch syncs for a few seconds and you can view all the key stats of your run such as distance, average pace, time, and calories, along with a nice GPS map visualization.
In the additional tabs you can see a graph showing the pace of your run at every moment and map it against your heart rate, cadence, and elevation.
Closing Thoughts
Overall I've been having a positive experience with the watch. It's functional and stylish, and hasn't given me many issues. However, at it's current list-price of $326 new on Amazon, I would reconsider the purchase. There is sometimes a  refurbished version available on Amazon that is very compelling. I would also strongly consider the Forerunner 35 at $170 or the Forerunner 230 at $175, which is the version of this watch without a heart rate monitor.