I've been training for a sprint distance triathlon. Part of the training has been going on long bike rides. Staying hydrated during these rides, especially as the weather gets warmer, is very important. Rather than wastefully pick up a Poland Spring bottle for each ride as I've done in the past, I decided to invest in a proper water bottle.
I never gave much thought to a water bottle. I've collected a few free ones over the years from participating in century bike rides, but I never liked how they made the water taste plasticky. I prefer using my Sigg bottle, but its small size and twist-off cap make it less than ideal for drinking while riding.
At a bike shop near my apartment, I came across Polar Bottle. The one at the store was 24 oz. in size, which I thought was ideal for my needs. It's also insulated with a lining around the bottle, which keeps the water colder. I didn't really like any of the color options there, so I picked one up with a patriotic theme. It cost $11.99.
The bottle is BPA and phthalate-free. BPA, or Bisphenol A, is a chemical that's often found in plastic products. BPA is an xenoestrogen, which is a group of compounds showing hormone-like properties. While there hasn't really been a link between BPA and adverse health effects, the fact that BPA can leach into food and water has made it very unpopular with consumers. Consumers who buy baby products made of plastic have especially been critical of BPA, and rightly so. You wouldn't want to store food or liquids in a product made of chemicals that may find their way into whatever you or your baby will consume. Phthalates are a group of chemicals used to soften and increase the flexibility of plastic. They, too, can leach into food and liquids.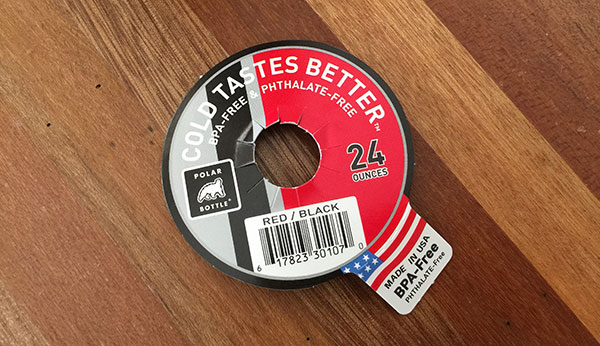 Polar Bottle makes it clear on their website that they're all about making safe plastic water bottles:
Our current bottles have undergone extensive testing by independent third-party services (Columbia Analytical Services, Inc. and Specialized Technology Resources, Inc.) to ensure that they are free of all known potentially harmful chemicals, including BPA and Phthalates. Our bottles exceed the standards for FDA-approved food grade materials and meet the standards for many countries with stricter regulations.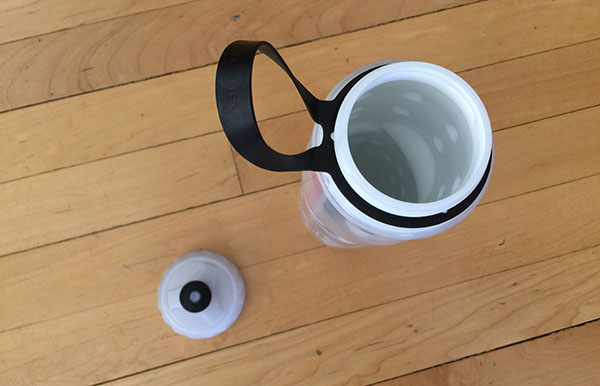 I like how robust the bottle feels. It's light, but feels durable. I filled it up with water and took it on my ride. One thing I noticed was how long the water kept cool. I was out for almost two hours and the water was still cold when I came back. I also liked that the water didn't taste plasticky at all. I think this will be a much appreciated feature in the coming months. I might even take the bottle with me when I go golfing. Just yesterday, when I played a round of golf in very warm weather, I lamented the fact that my bottle of water lost its coolness so quickly. It sucks to drink lukewarm water when it's hot outside and I'm lugging my golf bag on my back for 18 holes.
One additional bonus I found with the Polar Bottle: they replace the cap for free if you ever lose it. Here's what the website says:
We understand that caps can get lost or damaged and we would hate for a bottle to go to waste just because of the cap, which is why our unconditional lifetime guarantee extends to our caps as well. If you're ever in need of a new cap, simply fill out and submit the form below and we'll get your new caps on their way to your door. You never pay a dime.
Pretty cool. In fact, their company, which is based in Boulder, Colorado and has been around for 20+ years, sounds like a great organization. They have over 50 employees and seem to have a strong culture. They proudly mention that the product is made in the US, they feature their employees prominently on the homepage, and they have a very well-written section outlining their mission and vision statements. I love reading about small businesses that have been at it for a long time while cultivating a great culture, loyal customers, and a line of successful products. Sounds like Product Architects, the parent company of Polar Bottle, falls into that category.
Side note:
Couple great books if you're into reading about small but successful businesses that I've found inspirational over the years: