Remember the time you put that brand new Titleist Pro V1 on the tee and pulled out the big stick ready to smash the longest drive of your life? Then as the ball duck hooked or sliced into the woods never to be found again you realized you just threw away about $5. Golf balls can be pricey (heck golf is expensive in general) especially for mid to high handicappers who are still prone to those random shanks and hooks. I'm an avid golfer and I'm always on the lookout for deals, whether it be for apparel or golf balls, and fortunately I stumbled on lostgolfballs.com.
Lostgolfballs.com, which has been around for 20 years, is a site that sells used golf balls at a discounted price. They carry a wide range of brands and models which they get from scouring golf courses all over the nation. They clean the balls, sort them, and then ship them to you much cheaper than if you were to buy the golf balls new.
Here's a video on how they sort all those balls:

Paying a cheaper price for golf balls is great but what about the performance? If I'm willing to pay several hundred dollars for a top of the line driver so I can lower my handicap by just a few strokes, then it doesn't make sense to save a few bucks if the quality of the balls hurt your game right? Lostgolfballs.com has 3 tiers in terms of quality: 1st quality AAAAA, 2nd quality AAAA, and 3rd quality AAA. I've only purchased their 1st quality AAAAA balls so I can only attest to those and they are as described, practically brand new with very little or no wear. Sometimes you can't even tell the difference with the used golf balls and new ones except perhaps the logos. I do find that quite a few of the used golf balls have a logo though but that's probably the only turn off.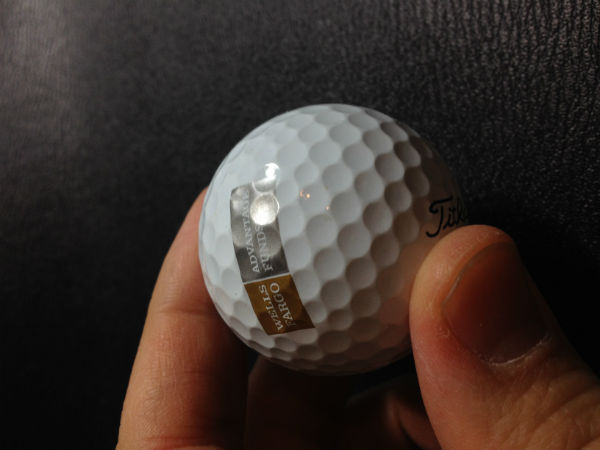 They also performed some pretty extensive tests to disprove that used golf balls perform worse than new ones. The 1st quality AAAAA golf balls showed practically no difference in terms of performance, in fact some of the lower quality tiers didn't lose yardage or spin either!
If you think that the ball doesn't matter, here's a pretty cool article from golfwrx.com that shows some detailed analysis on the Pro V1 versus the Pro V1x!
One of the biggest benefits, besides getting basically the same quality golf balls at a cheaper price is that it allows me to try a wide range of golf balls without having to pay an arm and a leg. How does the Nike RZN compare to the Titleist Pro V1? How does the spin of a Bridgestone Tour B330 compare to a Srixon Z-star? It's so easy to just purchase a bag of 12 each and do your own test! Personally I love the feel of a Pro V1 but sometimes when playing on a municipal course in New York City and the conditions aren't at their best (i.e. 30 degrees and 30 mph winds), I don't mind busting out a Titleist NXT Tour or even a Titleist DT Solo because I know how they are going to perform/feel having played with them before (oh and losing a DT Solo compared to a Pro V1 isn't as painful). Remember that everyone's swing speed, ball flight, and spin are different so try to find the right ball for you. Maybe you have a low ball flight in which case you want to counteract that with a ball that produces some additional spin, giving you a little more height or maybe you just want to match your swing speed with the appropriate ball so you get maximum distance.
With the weather finally warming up, stock up on some golf balls and hit the links!