Maximizing Efficiency
I'm very lucky to be working in a psychology lab that has a lot of resources and leadership that wants you to succeed. Last last month I had the opportunity to trade-in my nearly four year old MacBook Air for a new retina 13" MacBook Pro. MacWorld UK did a fantastic write-up of what great features the new MBP has so I won't repeat all that. I want to focus on what I did to personalize the computer and also how much of a change in efficiency I've felt since getting it.
Personalizing the MBP
I'm usually moving from room to room or building to building on campus or traveling from home to the lab or from home to the co-working space I've started using. So the first thing I did was get a hard case for the MBP so that I could just throw it into my backpack. Next, I figured I wanted to protect the keyboard, wrist area, and screen so I got the recommended Moshi iVisor, Uppercase keyboard protector and palm rest protector. I expanded the memory with an microSD card that got gifted to me and a Hyperdrive adapter. With all of these modifications, my MBP now feels solid, almost bulletproof. I won't be throwing it out of an airplane anytime soon but I haven't had any issues with it so far.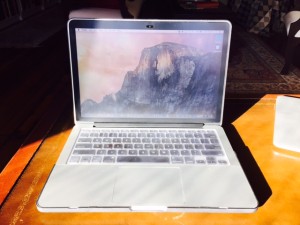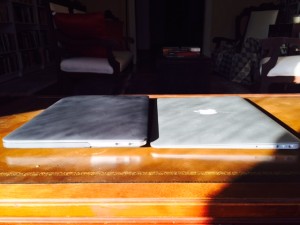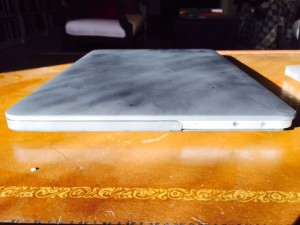 The Need for Speed
I do most of my statistical analysis in the R programming language (I like most R users prefer the R studio UI) and the datasets we work with in our lab can occasionally be cumbersome. I have noticed a considerable difference in speed when running ddply or bootstrapping / simulations with the improved MBP processor, especially compared to the 2011 MBA.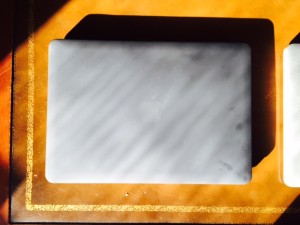 Is the screen really that nice?
Yes. Yes it is. But I don't really notice if I'm working on a screen that isn't "Retina". I do notice how nice the Retina screen is though, when I'm working on my MBP. Also on days where I can't get to an outlet to recharge between classes and meetings, the MBP battery life has pretty much solved all of those issues. Not outlets needed. I get about 7-8 hrs of use out of my MBP, near max brightness on my screen (I like the brightness turned up), running R studio, Chrome, Office suite and with wifi on.
All that being said, I'm a very lucky person to have this machine as my work computer.
Disclosures: long AAPL