Two years with NatureBox: lots of snacks delivered to the front door
In keeping with my philosophy of valuing time over money, in July 2013, I decided to give NatureBox a try. Why shop for snacks when someone will do that for you, find the tastiest ones, and ensure you get them on a regular basis?  NatureBox is a subscription service that delivers snacks to your front door on a regular basis. In a weird coincidence, I attended high school with one of the company's founders, Ken Chen (considering all of the entrepreneurs that have come out of our mid-sized public school, I think it must've been something in the water).

So how did my experience with NatureBox go? Read on to find out!
NatureBox: Just another subscription box service?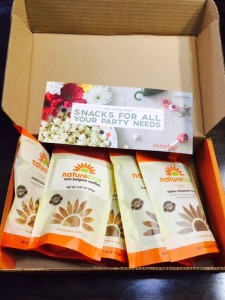 There are a ton of monthly box services such as Birchbox, Loot Crate, Trunk Club, etc. and each has its own audience and niche that it is trying to appeal to (note: I don't subscribe to any services other than Blue Apron and NatureBox). It seems that the crazed expansionary period for subscription boxes have subsided and the ones left standing at this point are trying to expand and make a turn towards profitability. NatureBox has been one of the more successful companies– they recently raised $30m in a Series C round to continue expansion within the U.S. and, more importantly, internationally.
Pricing
NatureBox offers four tiers of subscriptions– monthly and three kinds of prepay. A monthly subscription costs $19.95 and you can cancel or pause at any time. Each box comes with 5 bags of snacks and you can choose to add bags for an additional cost. Shipping cost is baked into this cost (although like all companies, they say shipping is "free"). With increased commitment (i.e. upfront cash flows for the company!), you get cheaper bags of snacks.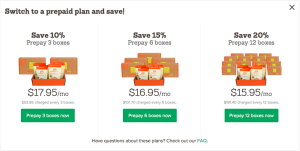 The cost per bag of snacks depends on your subscription status. For example, the regular $20 / month box, each bag costs $4, while at the cheapest, $16 / month, you are paying about $3.20 for each bag of snacks. We were on the six month prepay plan, then we went month-to-month, and we recently switched to the year-long prepay plan knowing that we'd be in one place for a while (we think) and that this is the cheapest option.
What I like about NatureBox
1. Unique snacks: the mix of flavors and styles of snacks are items that you're unlikely to be able to get at your local grocery store. Some of snacks integrate interesting flavors like pumpkin spice, blueberry powder, and Sriracha.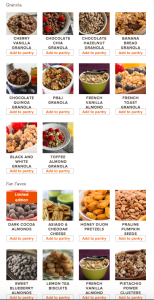 2. Generally good taste:  I have to say I haven't gotten too many snacks that I've disliked. And this is after two years of the service, where I've had the opportunity to taste about 80-90 snack varieties. Kettle Kernels (I'm a sucker for Corns Nuts from my days in the military), Honey Dijon Pretzels, and Sweet Blueberry Almonds are three of my absolute favorites.
3. Good quality: the snacks are equal to or better than their big corporate counterparts (e.g. Honey Dijon Pretzels and Snyders pretzel bites) in terms of quality.
What I don't like about NatureBox
1. The amount of snacks in each bag: the portions aren't the biggest out there. This can be problematic when you order a $4 bag of nom noms and you get four of them ($1 a piece!!). In general it seems like the nuts and premium snacks come in smaller amounts and the corn and other cheaper to produce items come in larger amounts.
2. Generally good taste:  this is a double-edged sword. Because of the smaller proportions, if you're not careful, you'll wind up eating half the bag in one sitting.
3. The price: I actually think that they can probably go even cheaper, although I've no idea of what their margins are right now. Even at $3.20 – $4.00 a bag, for the amounts you're getting, it doesn't feel like a great deal.
Overall I really like NatureBox and will continue to be a subscriber. How has your experience with NatureBox been? Let us know in the comments. If you'd like to try a free box, email buyswithfriends-at-gmail.com and we'll send you an invite (as long as we have them).