How often do you find yourself looking for an outlet in a crowded airport? Or in an older classroom that has few accessible outlets? The latter situation is what I've routinely found myself in, while teaching and taking classes. I decided to fix the problem by carrying around my own power source. I went out and grabbed a ChargeTech portable battery pack (24000 mAh size) for $150 on Amazon. After a month with the battery pack, I've found myself asking, was it worth it?
I first did some research on battery packs. I was gifted a smaller 2000 mAh battery pack a while back so I had some ideas about what I wanted. The battery charger needed to:
a. hold sufficient charge to re-up my MacBook Pro
b. be small and light enough to carry around comfortably
c. have an AC plug-in so that I would not have to buy a separate adapter for the MBP
d. include several USB ports for charging of other devices such as my iPhone
e. be reasonably priced
After looking at about ten different potential models, I decided on the ChargeTech mostly because it has gotten good reviews and because it was one of the few battery packs that were designed with an AC outlet. I knew that I'd be on the move most days and some of the classrooms I'm in don't have outlets that are easily accessed so charging my MBP, my primary workhorse machine, was essential. Sometimes I spend 7-8 hours way from outlets and with all the stuff I'm doing on the MBP, I've gotten dangerously close to 0% power a few times. Not wanting to risk it, I decided that the battery would be worth the investment.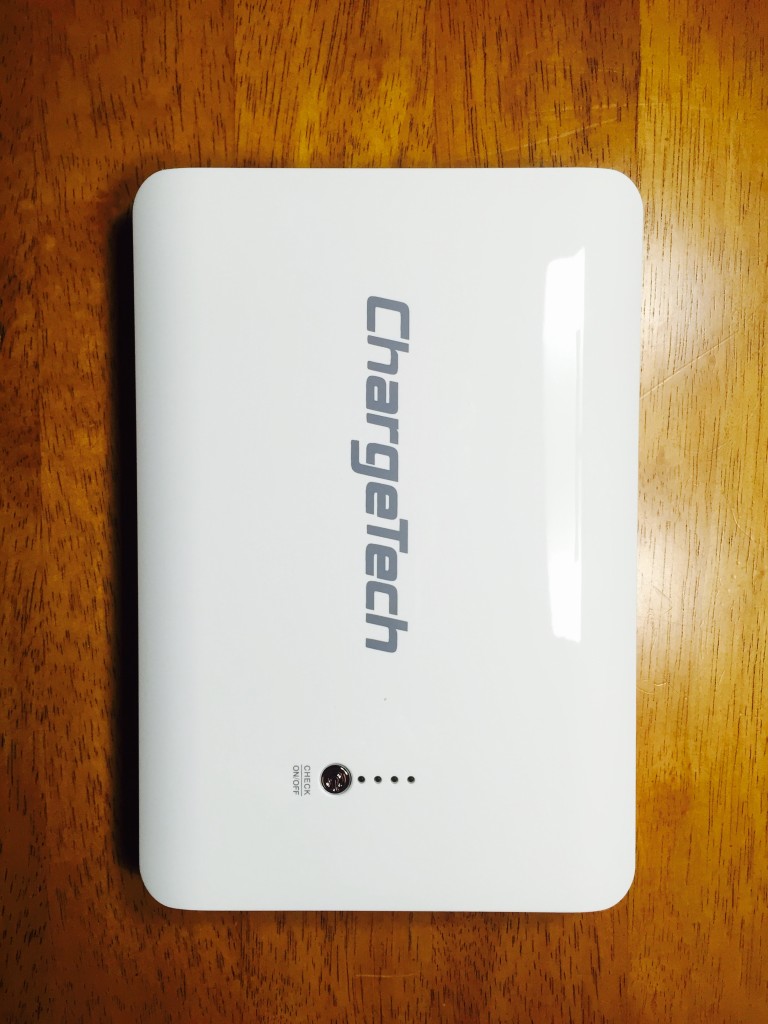 ChargeTech portable battery pack (white) 24000 mAh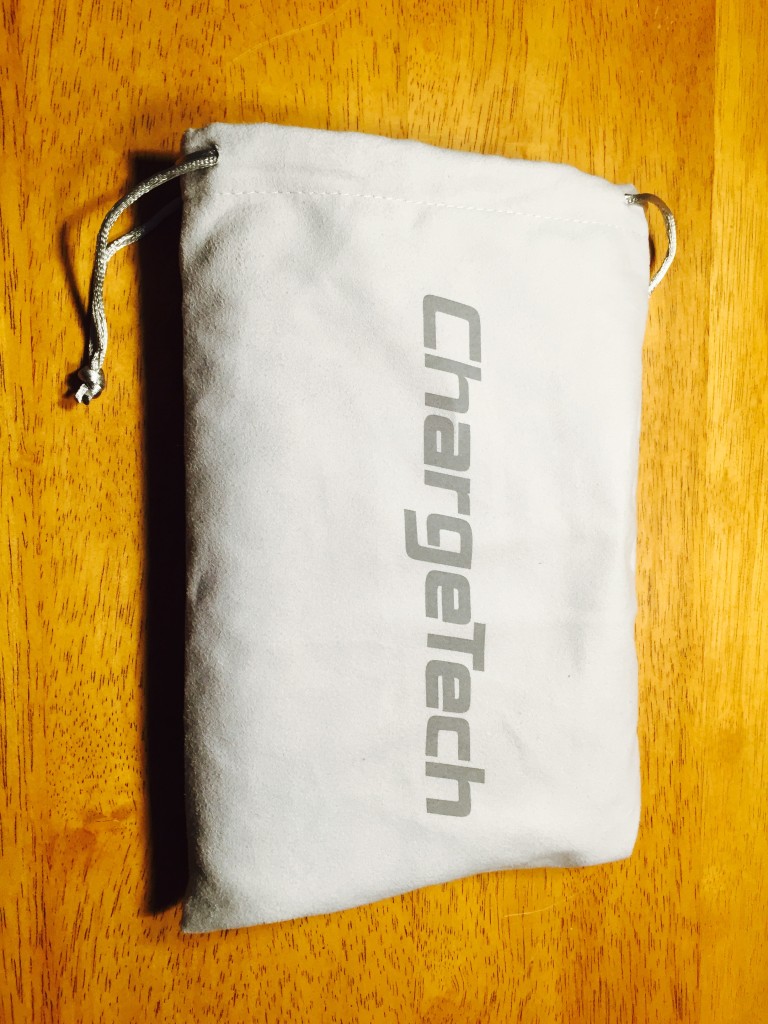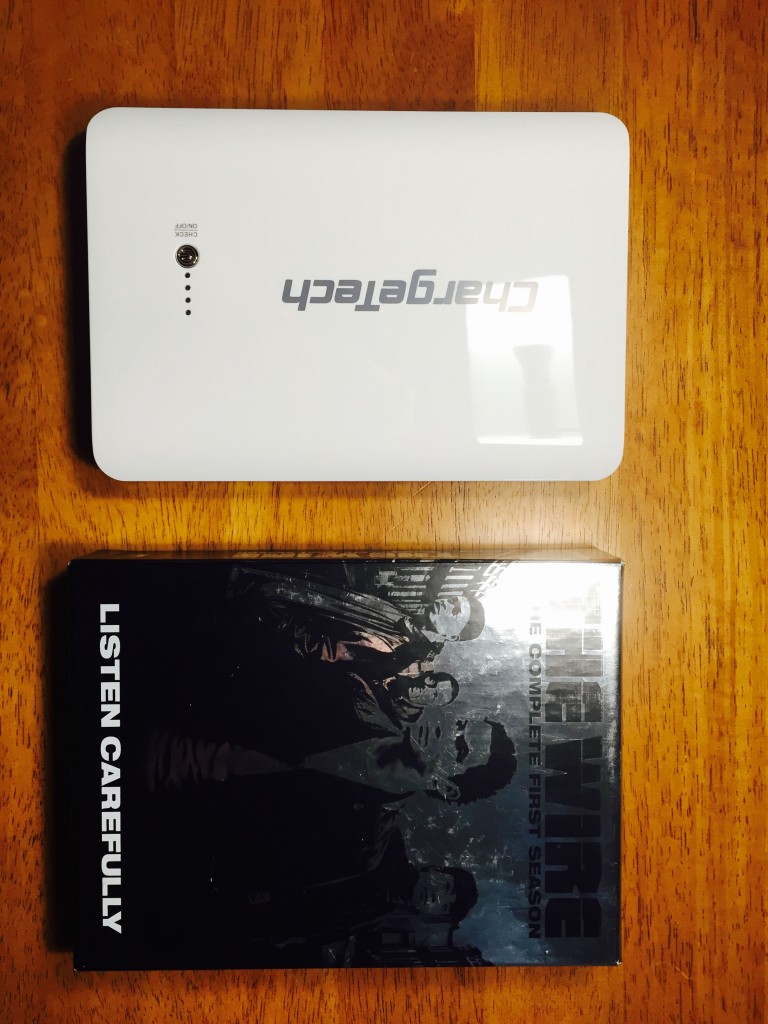 Size comparison of the ChargeTech to Season 1 of the Wire DVDs
Size-wise, the ChargeTech did not disappoint. It is about the size of a pack of DVDs. Not too large and easily fits inside the daypack I carry my stuff around in. Weight-wise, it is a bit heavy, and I do notice when it is inside my bag (it is about 2 lbs). All-in-all, not bad in terms of size and weight.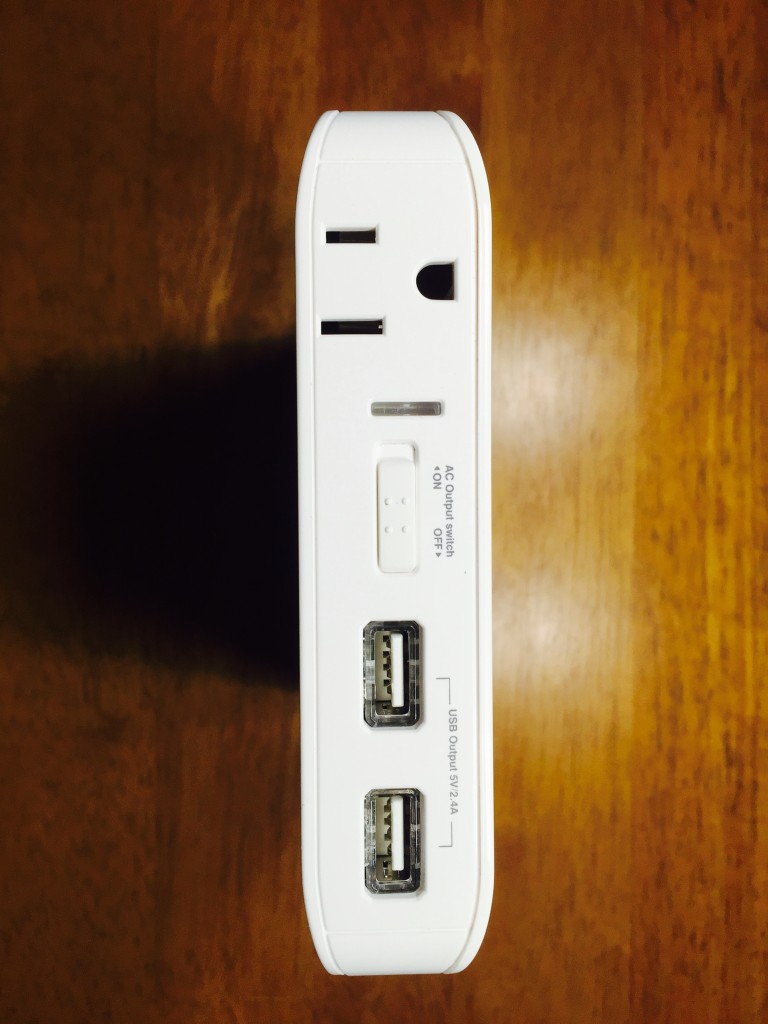 The AC adapter plug-in is probably the most useful thing about the battery pack. I can charge my MBP directly off the battery. Capacity-wise, I'm not sure it'll charge the MBP from close to 0% to 75%. I haven't had to do that– I generally start charging off of the battery pack when I hit 40%. It usually takes around 2 hours to charge the MBP battery (while it is being used) from 40% to around 95%.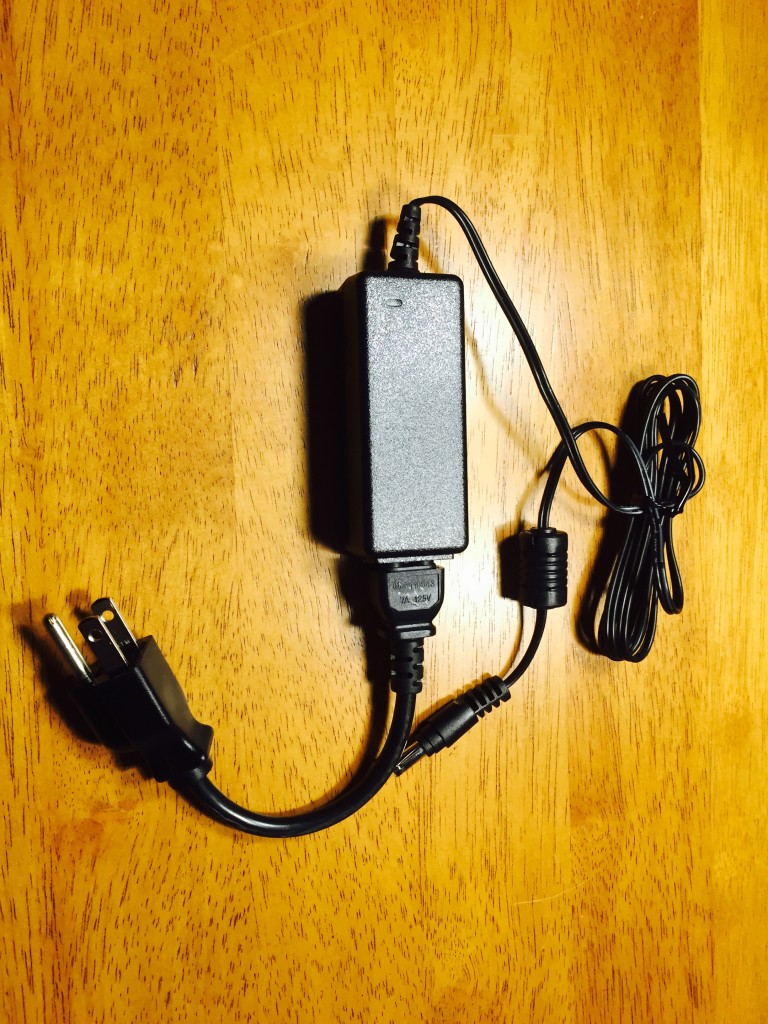 Recharging the battery pack is pretty easy– just plug it into the wall and wait (3 and a 1/2 hrs for a full charge from zero in my experience). The only real drawback I've experienced is that the battery gets pretty hot while in use. Not hot to the point of burning your skin but it is hotter than what you'd expect from other electronic devices like a laptop.
Overall, I've been really satisfied with the ChargeTech battery. Only time will tell if the capacity erodes over time. I'm hoping to get about a two years of work off of it. That's probably a bit optimistic, but we'll see!
What portable battery charger do you like? Leave your thoughts in the comments!