Tea Season is Here
One of my favorite parts of autumn and winter is that it's tea-drinking season. During the warmer months of summer, I rarely crave any warm drinks (except coffee), but the moment it dips below 50 degrees, I'm all about the tea.
One of my favorite teas is Rishi Turmeric Ginger. It's got a yellowish tint with an herbal, spicy flavor and makes for a great nighttime drink since it's caffeine-free.
These are the ingredients:
organic ginger root
organic turmeric root
organic licorice root
organic lemongrass
organic orange peel
organic lemon peel
essential orange and lemon oils
I typically get about 2-3 steeps out of a bag before the flavor runs out, and since it's caffeine-free, I don't mind refilling my mug with hot water over and over again.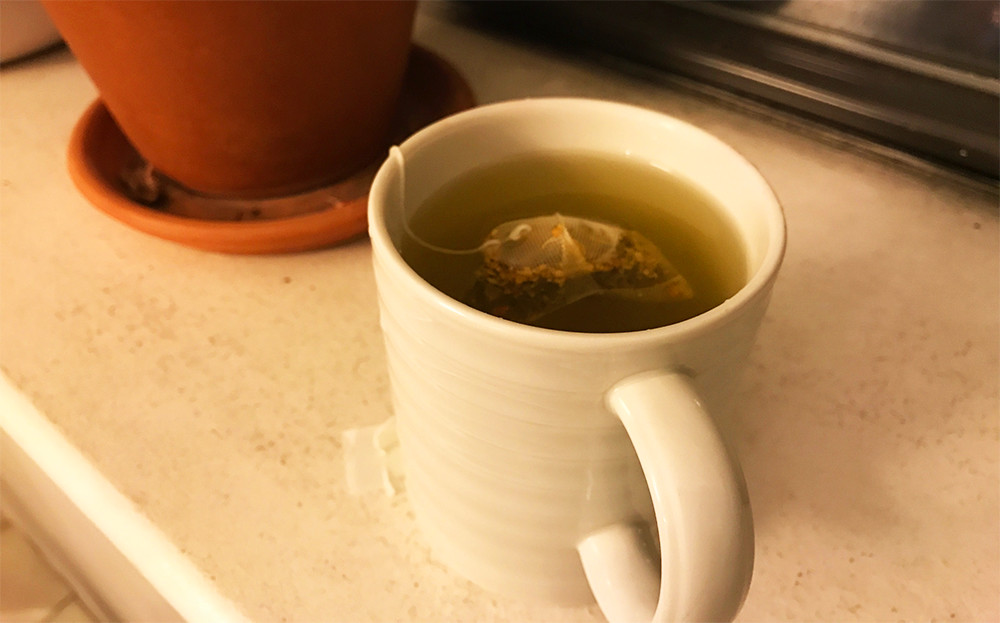 The Power of Turmeric
I love that this tea contains turmeric. It's one of those miracle ingredients that contain so many health benefits. I rarely use turmeric in my cooking, so I'm happy to get it through drinking tea. I also like that turmeric may be good for someone who sits at a desk all day. Check this out from How Not To Die by Michael Gregor, MD:
Why is sitting around so bad for you? One reason may be the endothelial dysfunction, the inability of the inner lining of your blood vessels to signal your arteries to relax normally in response to blood flow. Just as your muscles atrophy if you don't use them, "use it or lose it" may apply to arterial function as well. Increase blood flow promotes a healthy endothelium.

…One head-to-head study found that daily ingestion of turmeric component curcumin can improve endothelial function just as well as up to an hour a day of aerobic exercise.
Also, according to Dr. Gregor, turmeric may be "capable of preventing and treating (possibly by reprogramming cancer cell death) certain types of cancer including colon cancer, pancreatic cancer, skin, mouth, vulva, and ulcerating breast cancer."
Check out videos and more content about turmeric here: http://nutritionfacts.org/topics/turmeric/
I've been enjoying Rishi Turmeric Ginger tea even before I knew the benefits of turmeric. I think the ginger and citrusy flavor gives it a holiday feel and it's a good tea to have right before bed.
By the way, the key to drinking tea is having a good water boiler. If it wasn't for my Zojirushi water boiler, I probably wouldn't drink as much tea as I normally do. Waiting around for water to boil and only to see it cool off a few hours later can be a big bummer if you want to keep drinking tea all day long. Just make sure to clean your Zojirushi every once in a while, especially if you're not using it often, and don't let water sit there unused for a long time.